What could be better than dinner at a cozy fireside lodge on the snowy slopes of Park City? Not much except maybe a sleigh ride to get there.  There are a few places in Park City to have that kind of experience but our friends highly recommended the Fireside Dining at Empire Canyon Lodge and it definitely did not disappoint.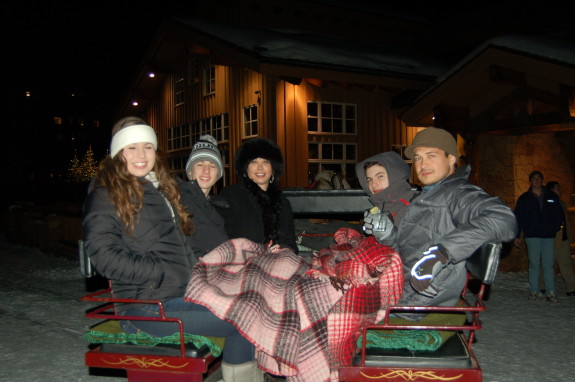 We arrived at the lodge with fireplaces aglow and were told to meet our sleigh driver outside.  Through the double doors we found our dashing sleigh driver wearing cowboy chaps and a big 10 gallon hat standing next to his two trusty steeds.  We hopped into the sleigh and draped ourselves with a cozy blanket before setting off into the darkness.  I thought we'd be going to another location for the dinner but instead, we found ourselves traveling in two large circles in the dark before heading right back to where we started.  The sleigh ride itself cost $30 (not per person put per ride and it fits about 6 people) I think had we not done it I might have regretted it, but after doing it, it did seem kind of a waste of time since we really didn't see anything or go anywhere, just around in a circle.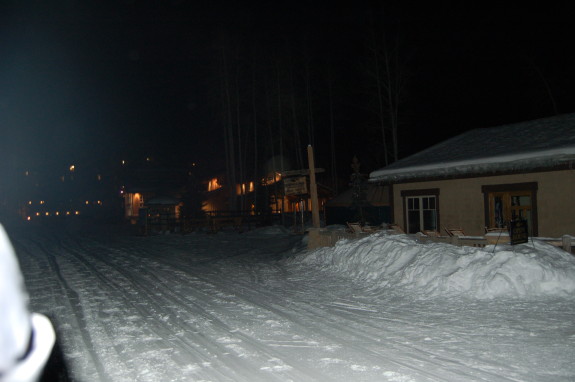 Heading back in to the restaurant we were seated and our server explained how it all works.  Basically it's an all you can eat gourmet buffet that is set up as 4 courses or stations each near a roaring fire.  The first course was cheese-not little slices or cubes on toothpicks, no no no! How about large wheels of amazing swiss cheese mounted in front of a fireplace slowly dripping onto plates.  Once you get your cheese you head over to the condiment table for some homemade strawberry chutney, mustards and smoked salamis.  It was unreal.  I've never tasted cheese like that and it was just beyond delicious.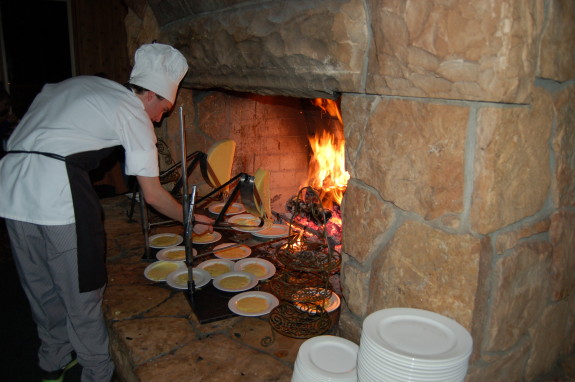 Next we headed over to the next fireplace for some soups and roasted veggies.  The onion soup was magnificent.  The third station had some delicious stews and some pan seared local trout served with rosti potatoes (kind of like a hash brown). After that , we headed to the carving station for some leg of lamb that was twirling fireside.  It was all outrageous.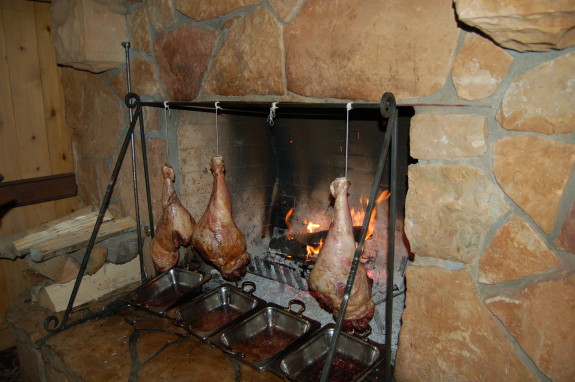 For desert, there were cups of melted chocolate (I could just stop right there and be happy) with an assortment of fruits for dipping as well as homemade cookies and brownies and merengues-Delish!.  It is an absolute  feast and every part of it was delicious but be forewarned, this dining experience does cost…at $58 per adult and $28 for kids-it's a very special treat.  I rationalized it two ways-where else though are you going to have that kind of experience and it is all you can eat.  With three teens, they don't get the kid rate anymore, so it was a super pricey evening for us, but at least no one left hungry and we enjoyed a meal that we'll never forget.