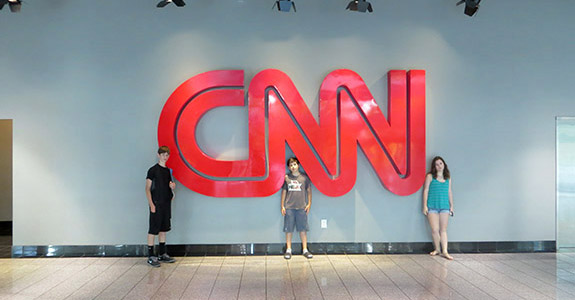 Atlanta is the home of CNN,  The Cable News Network founded by media mogul Ted Turner. Taking the CNN Tour allows you to go inside and learn what it takes to gather, write, and broadcast the news on television. Watching the news on TV we take for granted how  it's gathered and "packaged" and presented to us.  We just click the remote and have instant access 24 hours a day to whatever is making headlines around the world.   As a mom and as someone who follows the news on a nightly basis, I thought it would be totally cool for all of us to take the tour so we could learn how a news network operates.
As we milled around in the building lobby waiting for our tour to start, my daughter Lilia, who loves journalism and politics noticed a life sized cardboard cutout of Anderson Cooper, one of journalistic idols. She instantly fell in love and took numerous selfie portraits with "him" (later informing me that if they had one in the gift shop we needed to buy it for her room).  We also noticed a large army humvee-like  vehicle which was used during the gulf war to broadcast from the battlefield which was pretty impressive looking at it up close.  I tried to imagine being in this vehicle in a hailstorm of bullets hoping it would protect me.  It gave us all a new perspective of those brave journalists who cover war zones.  The Gulf War was the first war in which we had 24 hr coverage thanks to CNN and it changed the way the news is presented ever since.
My dad was a news addict and as a kid I remember watching the evening news every night at dinner time without fail.  Veteran news anchor Walter Cronkite felt like he was part of our family.  I got such an education and as a student was always the best when it came to current events.  I learned early on the importance of knowing what's going on in our world.  Today, news is all access all the time on a 24 hour cycle thanks to CNN, which has inspired other copycats as well like Fox News and MSNBC.
As we started our tour, we rode on the world's largest freestanding escalator (verified by the Guinness Book of World Records) up to a giant, colorful globe. From there our guide led us to a photo opportunity to sit behind the broadcast desk.  Yes we took the picture and I paid for it...I only wish I knew what the heck happened to it...invariably when you travel something is bound to get lost once in awhile and guess that's what happened to that picture.  FYI, I am still looking for it.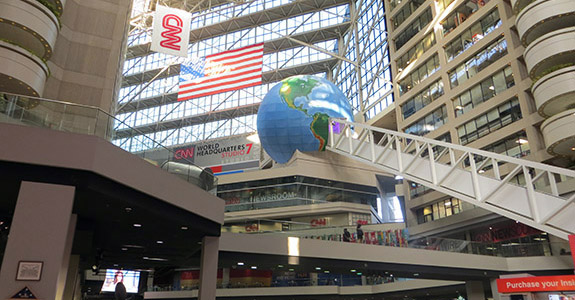 Moving on we wandered down a hall where we watched the editors and writers at work in a room with TV screens everywhere, folks at desks in front of computers diligently banging out copy for the broadcasters to read.  I kind of expected the newsroom to be a little more "frantic" but it all seemed pretty calm.  Of course nothing earth shattering was happening at the moment, I am sure if there was some major event unfolding, it'd be a lot more exciting to watch.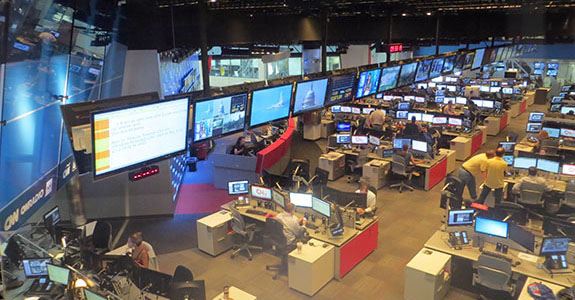 Next we headed to simulated anchor desk where we all took a shot at reading from the teleprompter.  It's not as easy as it looks when you have to read quickly and then say the words with the right emphasis and pronunciation. but it was really fun "trying to act natural" while reading in front of the camera.  From there we got to watch a live broadcast in progress in the studio with Don Lemon.  What you don't see on TV, that we saw standing there was the camera and the producer giving the cues.  We watched Don read from the teleprompter and then what happens when they cut to a commercial-not much except some paper shuffling, coffee sipping and some light banter.  If I were a little more photogenic, I think being a news anchor would be a really cool job.
I highly recommend this tour as it's a total inside look at how our news gets to us.  Watching TV, we just get absorbed into the story, taking the tour gave us a chance to understand what it takes to get the story and how it gets on the air. It was totally interesting not just to my journalism junkie Lilia, but for all of us and for that reason, it's a Do NOT MISS!