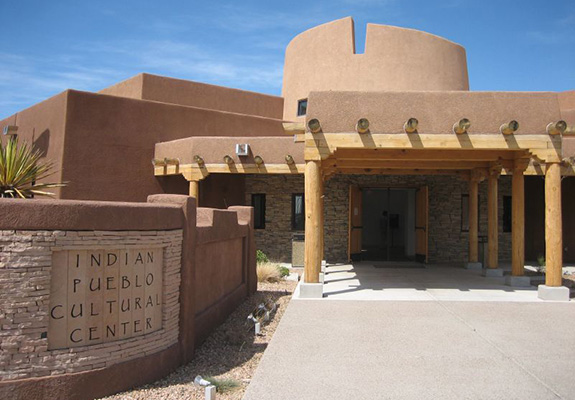 The Indian Pueblo Cultural Center  was our first stop after an early morning flight and a great place to start our introduction to the region and connect with our theme, Cowboys and Native American Indians.   The Center was founded to preserve and perpetuate Pueblo culture, and to advance understanding by presenting their accomplishments and evolving history with dignity and respect. It was boiling hot so it was great to escape into the air conditioning,  Inside we got an overview of the various tribes in the region like the Zuni,  Navajo,  San Ildefonso,  Apache, Tewa, Taos and a few others.   We learned that the Zuni are famous for their beautiful and intricate turquoise and silver jewelry which is prized all over the world.  The Navajo produce wonderful blankets and baskets. The San Ildefonso are known for their beautiful black pottery which is almost modern in feeling with it's smooth lines and glossy finishes.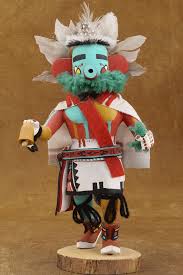 I personally loved looking at the Kachina dolls.  Some were just gorgeous and some were a little scary looking but all showed tremendous craftsmanship using brilliant colors, decorated with feathers and beads.  I thought about collecting them for a hot second and then reconsidered.  They are ceremonial pieces and should be used and displayed as such.  That thought sparked many others as we visited lots of other Native American sites on this trip.  Every place we explored we were beckoned to exhibit cultural sensitivity, and respect.  I have to say that although we were always respectful, as white tourists, there were times when we did feel mistrust and disdain.  There were times when it was awkward and uncomfortable knowing how our ancestors (though probably not mine directly as my family is first and 3rd generation American from South America and Eastern Europe) mistreated the Native American tribes and dealt with them unfairly.  It's weird, though it was always unspoken it seemed as if the mistrust was like a cloud hanging in the air.
After walking through the exhibits we gathered outside in  the scorching heat in the central courtyard to watch some Indian dances and skill demonstrations.  We sat on the floor in the tiniest bits of shade we could find.  We watched a dance or two and then a demonstration of pole climbing.  After awhile the heat just became too much and Shari and I decided to gather the kids,  pack it in, find our hotel and hit the pool.
From exhibits to live demonstrations and weekly happenings, this is a terrific place to learn more about the regional culture of the local Native American tribes I  just wished  we hadn't been quite so tired and wiped out to appreciate all it had to offer.