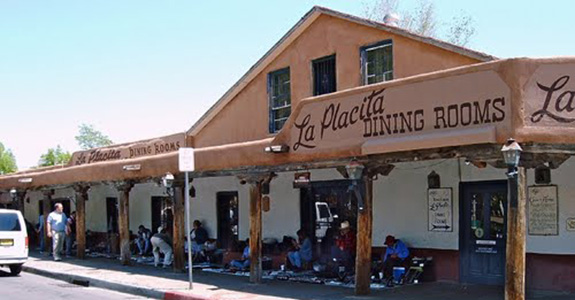 La Placita Dining Room is a truly authentic New Mexican dining experience.   After a hectic start to our first day, Shari and I treated ourselves to a Margarita and it was just what the doctor ordered.  Though it felt a lot like a typical Mexican restaurant back home in Los Angeles, the kids and I did notice some things that were different.  After sitting down and ordering, we were brought some "sopapillas" (fried bread) which is a crossover from the Native American culture.  After having gotten a taste the kids were hooked, and we tried to get some more later on in the trip but were totally unsuccessful (the restaurant was closed near the Taos Pueblo and the wind knocked the fry bread right out of my hands at the Four Corners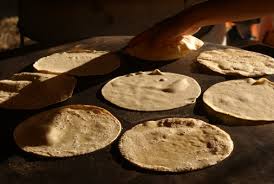 Monument)  The tortillas were magical and it was challenging to stop myself from eating them.  This was everyone's first taste of a truly handmade tortilla and it was fun to hear the kids talk about how they were different.  You cannot compare a fresh handmade tortilla to a store bought one and I urge you if you ever get the chance to taste one you will know exactly what I mean-it's warm, soft and chewy in a truly soul satisfying way.   We started with chips and  guacamole and then sampled enchiladas, quesadillas, and tamales.  Everything was just fantastic and we had a real authentic taste of the Old Southwest.
Check out the decor as well, especially the hand cut paper doilies in bright colors that were strung up throughout the restaurant.  It reminded me of the paper dolls my mom taught me to cut out as a kid and inspired an art project or two when we got home.  When you leave also take a gander at the handmade goods sold by Native American vendors  who spread their wares on blankets spread out across the floor next door in front of an old government building.