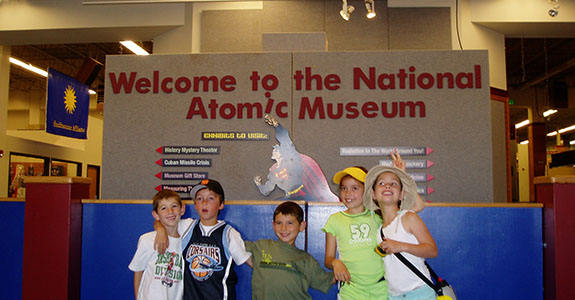 When we visited the National Museum of Nuclear Science and History it was known as the National Atomic Museum.  Initially Shari's daughter Maya was a little flipped out because she thought it was all about atomic bombs which are scary. Well, we did learn about the atomic bomb but we also learned a lot about the atom and how it's power can also be used for good like in x-rays.  I am not sure how much of the museum has been changed since we were there.  We saw scale models of Fat Man and Little Boy (the atomic bombs dropped on Japan) and a display about war and weaponry, missiles and bombs.  And of course the reason this museum is in New Mexico is because this is where the atomic bomb was worked on in secret and was known as "The Manhattan Project".  We discussed why the bomb was invented and the difficult decision that President Harry S. Truman had to make to use it.
During our visit to the museum my youngest son Joel who was about to turn six had a complete nuclear meltdown of his own.  All you can do as a parent is try to keep calm and control the situation. I tried the art of distraction which seemed to work pretty well. We went to the kids zone which was full of really simple science experiments that Joel and I discovered together.  We discovered the power of air, as air shot up through the top of a cone and kept a beach ball aloft.  When you turn off the air, the beach ball falls.  Turn it on again and through the beach ball up, and voila, the ball floats.  We also go on a bike which connected to a TV.  If you pedal quickly you can actually power a battery that will turn on the TV which you can watch while you are pedaling.  I did it with Joel on my lap and then he did it himself.
There were a few more exhibits and then we meandered through the rest of the museum which exhibits on electricity and X-rays.  It was all incredibly interesting and as we were about to leave my little "reactor" went into overload.  I guess you can figure out who didn't get the squish penny and who had to take her migraine medicine. Oh the joys of parenthood!