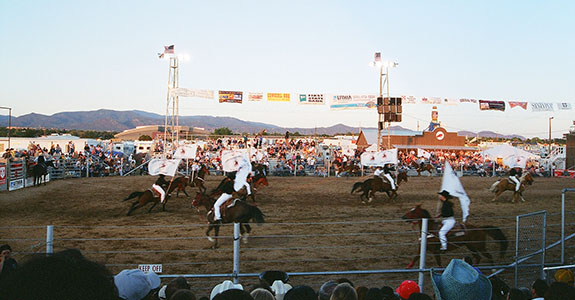 The Rodeo De Santa Fe is a seasonal show that takes place during the summer, so make sure you check ahead if you're hoping to catch this authentic rodeo experience! We had actually planned our trip to coincide with it and I am so glad because it's something none of us will ever forget. It was so memorable as none of us had ever been to a real rodeo—and this is as real as it gets.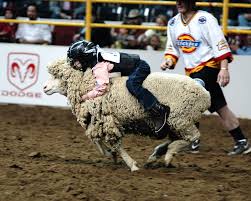 First out the gate were the Mutton Busters—little kids probably ages 7-10 who try to ride sheep. As a mom, I am not sure I was a fan, but the kids thought it was awesome. The kids wear a helmet and look just like the bronco and bull riders. They're  put on the sheep in a tight pen and then let out. The sheep takes off like a rocket trying to shake the kid of it's back. The spills didn't seem too nasty but if you asked me if I'd let my boys do it...NO WAY.
Next up, there was a beautiful parade with riders on horseback waving flags in a a procession and then the real competition got started beginning with bucking broncos and calf roping. There was also a salute to the rodeo style from Mexico, as New Mexico retains a strong influence from the days it was under Mexican rule.  Finally the event everyone was waiting for- bull riding. It's one thing to see this stuff on TV, but it's another thing entirely when you are there in person seeing the bulls snorting, flinging the riders like rag dolls. I give these guys a lot of credit, bull riding is a tough gig...Yeehaaa!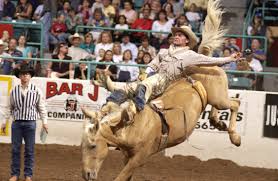 There were lots of fun food concessions and cool rodeo gear for sale too.
What I liked most about the rodeo was it's down home attitude. The booster club sold lemonade and popcorn to raise funds for the local high school football team-not big time concessions stands. We ate roasted corn and sat in the stands with regular folks enjoying the evening air. Nothing fancy, and we loved every minute.  Just down home good fun.