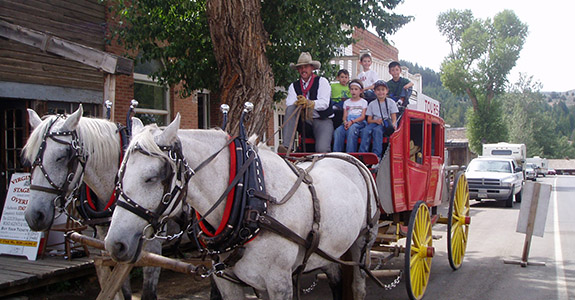 Virginia City is a fun little historic town that looks frozen in time. We rode a little train from Nevada city into the town and I remember Isaac acting out and some strange man-a real relic of the old west, on the train told my son to behave or he'd teach him a lesson. I was so caught off guard that someone would say something like that to someone else's kid that I just froze. To this day I am mad at myself for allowing someone to threaten my son and I have never allowed that situation to ever happen again-I have learned to open my big mouth and channel my inner mama bear...
The are many interesting shops in this adorable town, the most interesting to my kids being Cousins' Candy Shop where you can watch an old fashioned taffy pulling machine. The sidewalks are wooden planks and the roads still have horses and stagecoaches running down them. There was a stagecoach for hire, so we hopped on and took a tour of the city. If you get the chance, I highly recommend it. A couple of kids sat up top and the rest of us piled into the cabin and rode around the city listening to our guide above the clippity clop of the horses hooves. If you closed your eyes, you could imagine yourself in another era. Everyone also enjoyed checking out the antique cars parked in town that you can hop in and take some awesome pictures. It was tons of fun and if you are anywhere in the vicinity it's a DO NOT MISS.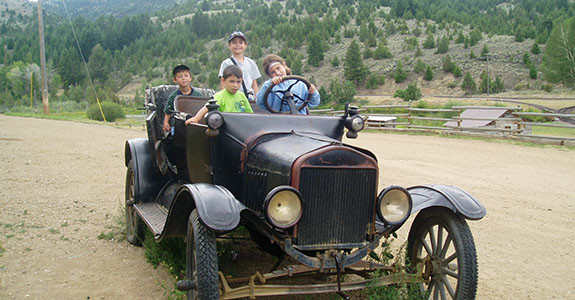 Also be sure to take an old time western photo at one of the many shops that offer it.  Dress up in costumes and pose as your best badass frontier folk.  Another memory to be cherished forever.
On our way back we missed the train so we decided to hoof it back to Nevada City.  We walked along an old stagecoach trail imagining ourselves as a family coming out west, seeing, hearing, smelling what it might have been like.  I just love engaging the kids in conversation while they engage their senses and discuss what everyone is getting out of the experience it.