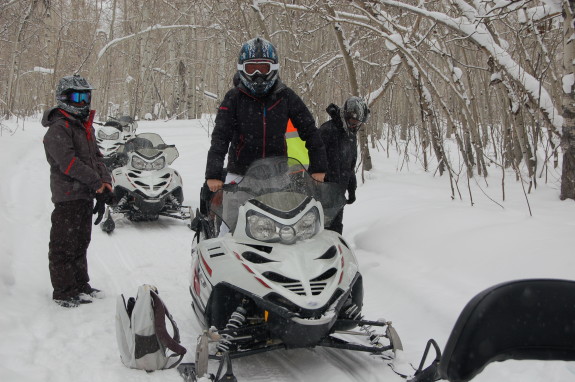 Before I get too far into this amazing and breathtaking experience, let me first mention that Backcountry Snowmobiling (click here to check out their website) really is in the back country. It's about 1 hour away from Park City on the outskirts of the tiny town of Coalville. Once off the highway and past Main street you'll head up Chalk Creek Road for about 18 miles past ranches that keep getting more and more spread apart until you just see some mountains and snow and not much else. Don't panic…just keep going. Before you know it, you'll see a big sign and a bunch of snowmobiles and your adventure will begin.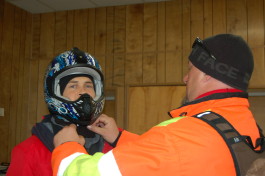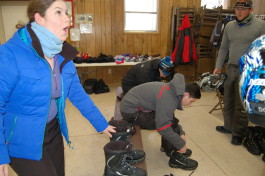 Heading inside to a spartan room (uh no bathrooms or running water-if you've got to go, and you should before heading out on your trek, make sure you use the "honeypot" nee porta-potty outside) we met our awesome guide Dallas who checked us in and fitted us with our gear-which is a motorcycle-like helmet and special riding boots. For snowmobiling you want to dress in your ski gear (pants, jacket, gloves, goggles, etc) and warm layers. If you've forgotten something Backcountry has some stuff they can rent you. The absolute most important part of your outfit though is your neck gaiter/face warmer. This is a must! Poor Isaac didn't have his pulled high enough and upon our return we found his face frozen into a painful smile. (Another one of those things we'll be cracking up about for years!)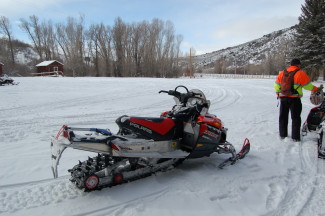 We headed outside to find our rides-Polaris RMK 600 snowmobiles.  They kind of look like a cross between a motorcycle with front skis instead of wheels fitted on a bulldozer track. We jumped on and Dallas gave us the basics for safety.  They are very simple to use as everything is controlled by your hands. You accelerate by grabbing the lever on the right handlebar and brake with the lever on your left.  The handlebars are heated and you'll feel some warm air over your boots, but in spite of these little luxuries you will still FREEZE as you drive 20mph into the cold. After getting a lesson in hand signals (which is about the only way you'll communicate once you get moving) it was time to head out for our 2 hour tour. Moving along was smooth and fun and a lot easier than I thought it was going to be.  We sailed along the trail in a caravan heading out of the fenced area and into the magnificent wild following our fearless leader.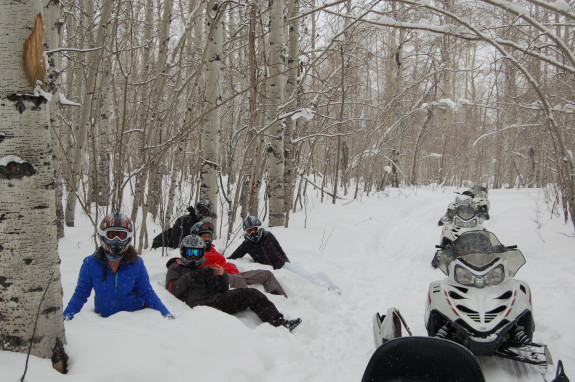 After about 15 minutes along the winding trail that led past jaw dropping snow covered rock formations and frozen forests we stopped under an icy arch formed by a fallen tree. Dallas explained that we were on a private reserve owned by 2 families which encompassed 92,000 acres of which Backcountry leases 44,000 exclusively for their snowmobile treks-so while you may find other outfits closer into Park City proper, you won't find any with private access to trails as beautiful or as private as these! We hopped off our rides and we jumped around in the snow.  It was powdery soft and about waist deep. Dallas obliged by taking tons of photos and even shared some hand warmers.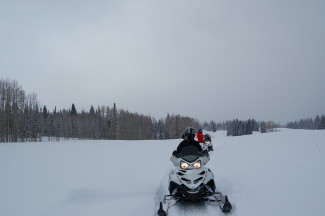 After a rollicking good time we hopped on again and headed higher up past a remote cabin into a clearing at 10,000 feet altitude.  It was absolutely pristine.  The views are said to be spectacular but because some fog had rolled in we couldn't see the surrounding lakes and town below.  Still to know we were together in the remote area was an awesome experience that none of us will soon forget.  As we started to make our way back down, my snowmobile veered off the trail and started to flip into a snowbank. I stopped, carefully got off and  signaled Dallas who roared back up the hill to maneuver my ride out of the snow and back up onto the trail.
We sped back nonstop all the way back to where we started and I am not going to lie, it was freezing cold. Now I know what they mean by "wind chill".  We were complete icicles by the time we made it back into the warmth to take off our gear, but it was worth every bit to experience the natural beauty of the Utah back country. Sure there are lots of other places to snowmobile, but the experience we had was just exceptional. In fact, we never saw anyone else on the trail except for us. Dallas was the best guide, knowledgeable, friendly, and always checking to make sure we were ok. A 2hr ride is $129 a person, but the experience in my book was completely priceless.  Impressing 3 teenagers is pretty hard to do and impressing my 3 kids who have been all over the place is really hard-but snowmobiling with the folks at Backcountry blew us all away.  Worth every penny and definitely something to check off on your life's bucket list!!!!-and no, I didn't get paid to write this…it was just plain AWESOME!