Wilmington is an adorable little beach town on the coast of North Carolina that is wonderfully picturesque with charming beach cottages right off the shore.  Driving in we had planned on spending some time exploring the shore but sadly a storm had blown in so our plans fell by the wayside.  After checking into our hotel to get that out of the way and kill some time, the crew was famished, so we set out to see what we could find to eat.
We happened upon The Bento Box Sushi Bar and Asian Kitchen—I had my doubts about sushi in North Carolina, but my kids insisted so I figured we'd at least walk in and check it out. To this day, my kids remember this as one of their all time favorite dining experiences. It was an odd time so the restaurant was pretty empty.   The kids and I sat at the bar where we met chef Lee Grossman, who I must say,is a true culinary artist in every sense of the word. Having gotten burnt out after being head chef at one of the swanky restaurants at the Breakers Hotel in Florida, he decided to move here and pursue his passion as well as a low-key lifestyle.
We took a look at the menu and ordered up.  What arrived in front of us was some of the most spectacular sushi we have ever seen.  Chef Lee's creations were not only gorgeous to look at, they were insanely delicious. Much better than any sushi we've ever had in Los Angeles.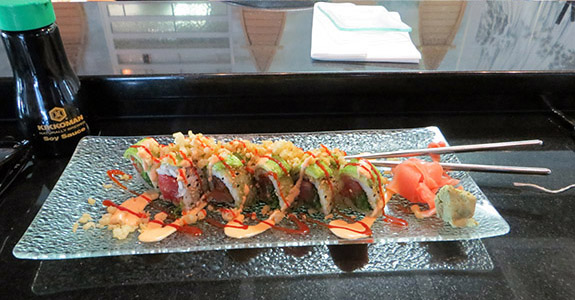 As we were finishing our meal, Chef Lee explained one of his most popular creations.  Imagine a chocolate truffle wrapped in a wonton wrapper and deep fried.  On the plate next to the truffle is the chocolate dipping sauce.  There were a couple of different flavors he was experimenting with and they were decadent and sinfully good. I think I died and went to heaven after eating it.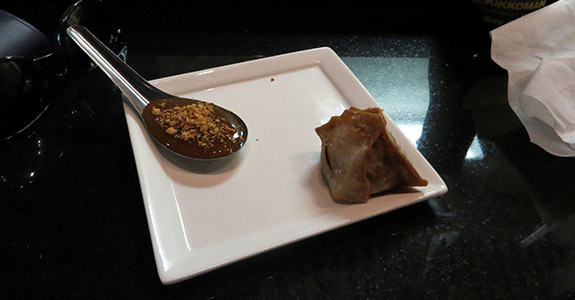 We sat and chatted with Chef Lee while it poured rain outside and it was just one of the nicest afternoons we'd spent on the whole trip.  We all loved learning about the art of making sushi from Chef Lee, but better than that, we loved watching an artist who is just passionate about his work, and learning the true meaning of following your heart and doing what makes you happy.
I'll say it again, if sushi is your thing, it's beyond spectacular. It isn't cheap, but you will remember this feast and the artist who created it forever and how can you put a price on that?