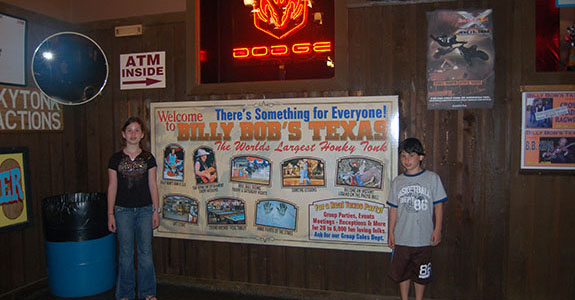 Billy Bob's Texas bills itself as the World's Largest Honky Tonk and I was just dying to check it out (cowboy boots and all), but I was pretty sure they wouldn't allow kids.  Here's another great example of it never hurts to ask.  I called up before heading over and was told the whole family was welcome and that there were tons of family friendly activities.  Well they weren't lying, this place is an absolute blast, and it was the best night we spent in Texas.
Billy Bobs is like one enormous country western nightclub with live music, a mechanical bull, arcades and tons of people whooping and hollering and line dancing.  We went on a Monday night so it was probably tamer than usual, but that was just fine for me and my gang.  First thing first we headed toward a stuffed bucking bull where you can get dressed in some sassy cowboy gear and pose for a souvenir photo. All of us put on chaps, bandanas and cowboy hats and climbed aboard.  Joel grabbed the horns, Lilia and I followed, and Isaac sat backwards hanging onto the tail.  It was hysterical.  You can pick the background and we chose the magazine cover saying we were rodeo champs.  It's a cherished keepsake and one of these days when I can get my scanner to load it I'll post if for y'all.
Next we headed over to do some line dancing.  I love to dance and even had my cowboy boots on the for occasion but I could not get my kids to go along with it so I just tapped my toes and watched as I wasn't going to leave them on their own.  I just loved watching everyone two step and twirl to the music all together in sync and the kids enjoyed it too.  We don't get much Texas Honkey Tonk in California so it was fun to watch everyone kicking up their heels.  Next the kids dragged me to the arcade and emptied my wallet of quarters.   That was fun until Isaac discovered the slot machines.  Now here's a great example of how they're pretty lax in Texas with a live and let live attitude which goes along with their independence.  Normally, any kind of gambling set up would be off limits to kids right? Not here! Isaac waltzed up and told the barmaid he wanted to play the slot machine at which point she said no problem and told me I needed to buy some tokens.  Now you can criticize me if you want to, but I handed her a few bucks and got a handful of tokens and let all three kids experience the thrill because there was nowhere else they were going to be allowed to do that. The kids won a little but then lost it all.   As with most things in life, I believe in moderation and at the end of the day there really wasn't much difference between the arcade games and the flashing slot machine.  The kids had fun and after we ran out of tokens, it was time to call it a night.  My kids know when we're done we're done and so with a minimum amount of whining we walked back to our hotel.  Billy Bob's was by far the best evening of almost any road trip and if you ever get the chance to hit up this honky tonk with or without kids, you'll have a great time as big as Texas itself.  Yeeehawww!
Yep, my kids are playing the slots (with tokens…) It's Texas.