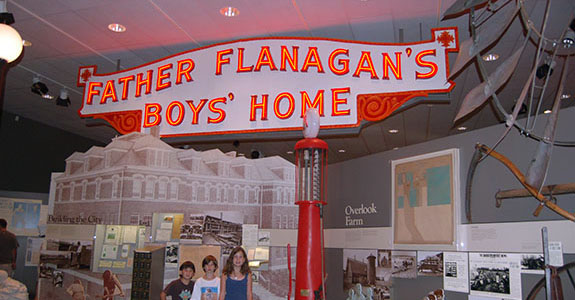 Boys Town  is the home for wayward youth made famous by the Spencer Tracy movie of the same name. A home for wayward youth is not a place I normally bring my kids when we are sightseeing, but the story connected with this place is so inspiring and the visitor center is so emotionally powerful I just thought it was really important for us as a family to check it out.  You've surely heard the expression, "he's not heavy, he's my brother." That phrase is the heart and soul of what makes Boys Town such a special place.
Started during the Depression by Father Flanagan,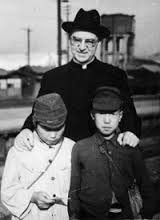 Boys Town was created to help boys who were left homeless and alone after their families abandoned them when they could no longer afford to take care for their children. Can you imagine times so tough economically that your parents tell you to go live on the streets because they cannot afford to feed or clothe you? If you can believe it, that's what happened to my Grandma Norma and her siblings in Chicago. Her older sister Goldie got married at 16 to a wonderful man named Eddie who agreed to let my grandma and two younger brothers live with them till they could take care of themselves.  Many other children weren't so lucky.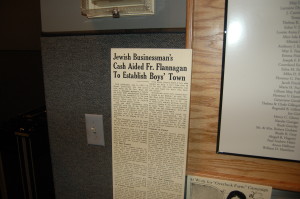 On the streets of Omaha,  left to their own devices many of these boys turned to crime and theft to survive getting into terrible trouble.  Father Flanagan ministered to these boys an secured some land at Overlook Farm from some very generous individuals to create Boys Town, a complex to house, feed, and clothe the boys, teaching them skills and setting them on the right path in life.  Through the help of many in the community, and Father Flanagan's valiant efforts, many boys found shelter, friendship and a sense of community and  and grew up to be productive members of society.
Today, Boys Town still serves to help at-risk youth meeting their needs and put them on the right track towards a brighter future. My kids and I were shocked to read the stories and imagine what life was like for some of these kids and  the hardships families faced during the Depression.  Seeing the newspaper clippings and reading personal stories made it all very real and actually helped me connect a little to my own family history.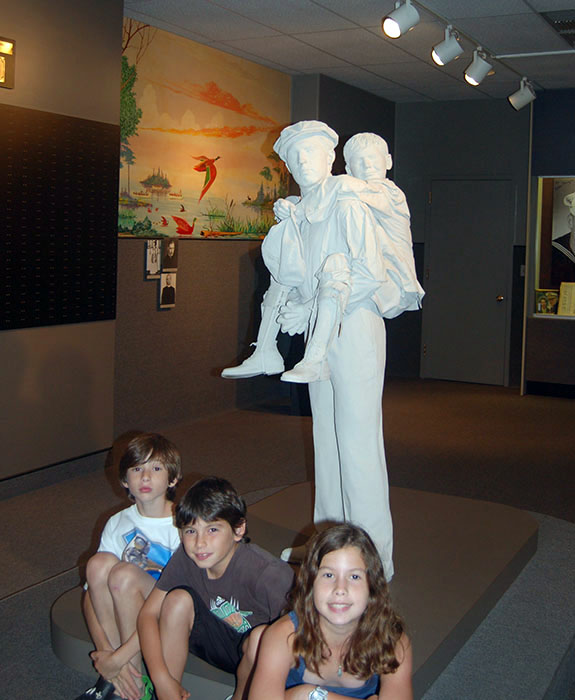 Reading some of the stories brought tears to my eyes and I could see that my kids were visibly moved as well.   It was a huge reality check for me and my children to appreciate the lives we lead, to have family and the means to take care of ourselves.
Even writing this now and thinking about the kids at Boys Town still gets me choked up.  Father Flanagan was an an incredible man who dedicated his life to improving those of others.  There is no more selfless act.  As we left, I made a donation in Father Flanagan's honor and do so every year to continue his legacy  and keep Boys Town open to help those kids who need it.  If you find yourself in Omaha, make sure you stop and in see the displays and read the stories- and then count your blessings.  You'll be glad you did.