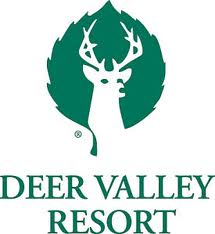 Rated the #1 ski resort by Ski Magazine, it's no wonder everything seemed like a skiers paradise up at Deer Valley Ski Resort.  The ski area itself is huge and is broken up by lodges and lifts all over the mountain and it is all just breathtakingly beautiful.  Deer Valley is a "ski only" resort that does not allow snowboarding, so to best enjoy it you should do what we did and embrace the ski culture.  A word of warning, to have this best of the best pure ski experience comes with a price, so expect the lift tickets here to be about 30-40% more than the other resorts. The upside of that is even at holiday time it was much less crowded than at the other resorts.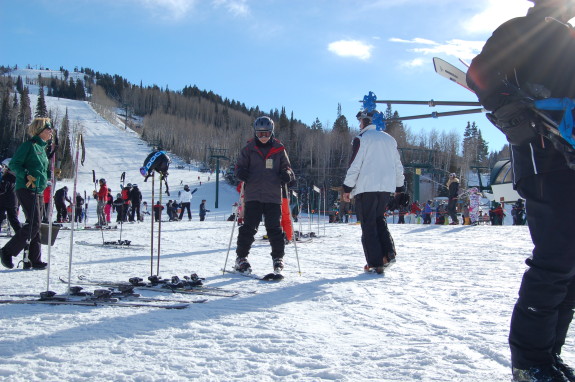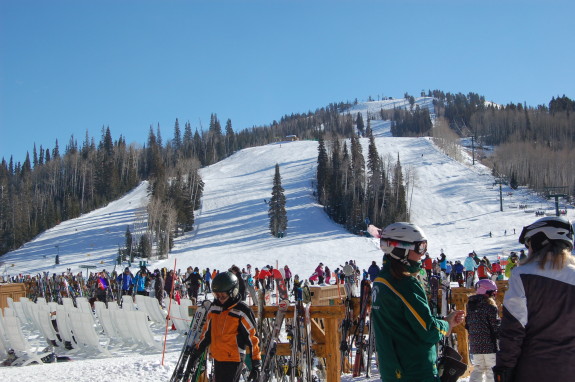 I got the kids lift tickets and arranged for them to meet up with our pals who are all expert skiers (we're talking the 8 and 10 year old boys ski double black diamonds).  Needing a break from skiing, I decided I'd ride one of the lifts down to the bottom of the mountain and check out the shops and restaurants.  All over the mountain you will find "ski hosts" who are there to help you with just about whatever you need.  A super friendly host named "John" escorted us all around to find the ticket window to purchase a round trip ticket on the chair lift ($15 per person) and then made sure we got on safely. The personal service here was definitely a cut above, which is what you should expect when you are at a super pricey resort.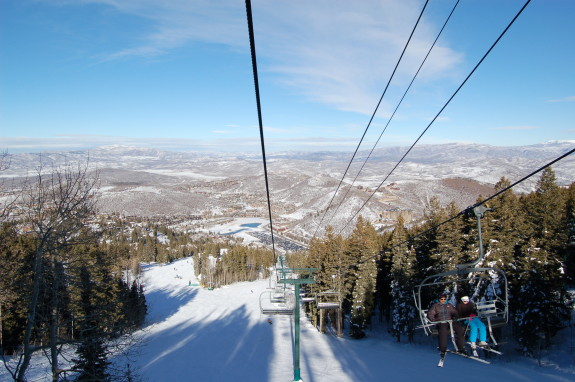 The scenery going down the lift was just gorgeous.  I loved seeing the skiers below us zipping down the hills, so graceful and smooth.  Just about halfway down the lift, my cell phone rang and it was my friend telling me that my kids were out of their league and got stuck on a run and had to be rescued down and that I should head back up. She later apologized telling me she had encouraged them to go down a blue run (intermediate) when they only felt comfortable doing a green one (beginner).  Thank G-d everyone was ok, but my little excursion of discovery got cut short and as soon as we got down the mountain, we turned around and went right back up.  It never fails, just when I think I'll get a little "me" time, something happens and mom gets called back into action.
The kids were a little shook up but fine, so we sat at a place called "the beach" outside of the lunch area to take a little break.  Lined up in rows were tons of plastic adirondak chairs in the snow with folks lounging.  It was an awesome place to people watch which is one of my all time favorite hobbies.  You just cannot believe the crazy colorful ski gear people wear.  Apparently the latest trend with the teen set are spiked  or mohawked helmet covers.  I even saw one that looked like a unicorn. It was awesome.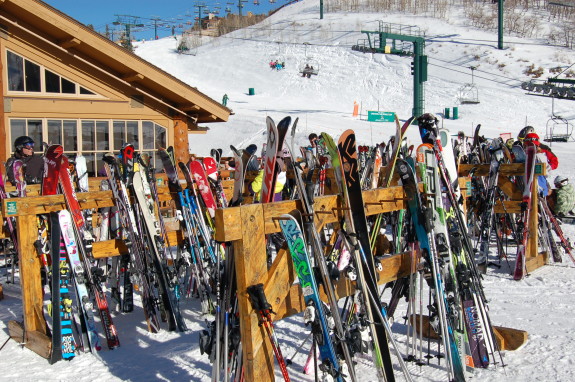 So after a half day of skiing most folks head to the buffet for which like Park City offers a host of delicious options.  We headed to the more private restaurant and sipped some hot cocoa and ate a late lunch.  The lifts generally stop at 4, so folks then go for apres' ski-this is a new term we learned on our trip.  Apres' ski means "after ski" and it consists of heading to a cozy lodge, ordering drinks and snacks and hanging out with friends.  Those in the know head over to Stein Erikson's which is a very swanky lodge/hotel with a fantastic restaurant and is definitely the place to be.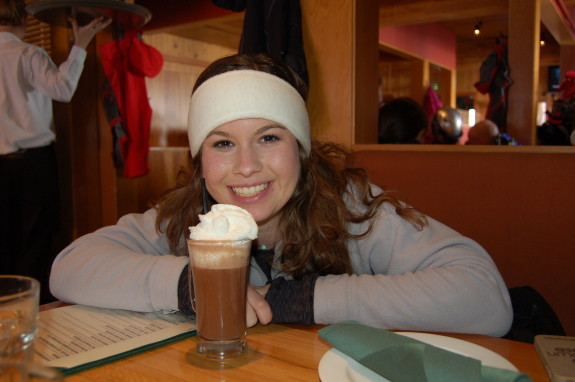 Deer Valley is where the jet set go to ski and this was confirmed by some celebrity sightings.  It is the best of the best and as with most things in life, you get what you pay for.  If you can afford to ski here, it's worth every penny.  From the powder to the personnel everything here is top notch. The atmosphere can be a little intimidating, but if you hold your head high and carry yourself with confidence, it won't make a difference if you're a black diamond expert or just a beginner like me.