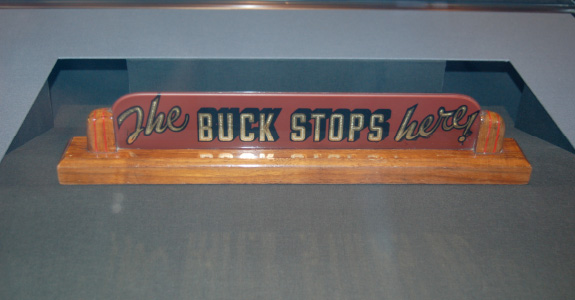 Much like the man himself, the Harry S. Truman Presidential Library and Museum is low key and and lacking any kind of glamour but one thing it is not is boring. We found the experience to be a completely opposite from our visit to the Abraham Lincoln Presidential Library  on the same trip.  As soon as we walked in we were greeted by an unpretentious display of the iconic sign that sat on President Truman's desk-"The buck stops here!". I could not believe I was actually staring at the real deal.  My kids could tell that I was really taken with the sign and asked me what it meant.  I explained to them that as a mom, as a citizen, and as a human being, what that sign means to me is don't be the person that "passes the buck" looking for someone else to take responsibility, be someone of action and get it done.  If you deserve the blame, man up and take it, be a person that makes a difference instead of looking to others. On Harry Truman's desk, it meant that as President, there was no one he could pass the buck to, he was responsible and he was going to get things done. That is a message all of us should take to heart.. Wandering around we learned how Harry Truman became President and how he surprisingly won a second term, when the papers predicted he'd lose.  We learned about the important decisions that Mr. Truman had to make, some of the most difficult decisions that any President has ever had to make in the history of this country such as dropping the atomic bomb, and recognizing Israel as a state. President Truman is my second favorite president next to Teddy Roosevelt.  It takes true strength to take on the establishment and make difficult decisions with the country's best interest at heart, decisions that may not be popular but are the right thing to do.  That is the mark of a true leader and President Truman was such a man.  Harry S. Truman was an ordinary man who gave the best of himself to do right by the American people and as a country we should be forever grateful for his service.
After wandering throughout the library, we headed out back where president Truman is buried in his beloved state of Missouri, not far from where he lived a quiet and unassuming life.  We paid our respects to this great American president and then stood next to a life size bronze statue of his image, and image of a common man, who was uncommon in his bravery and leadership.
After our visit we headed to the small gift shop.  I bought a small refrigerator magnet replica of "The buck stops here!" sign so that everyone in our house could remember what it meant to President Truman and what it should mean to each of us.