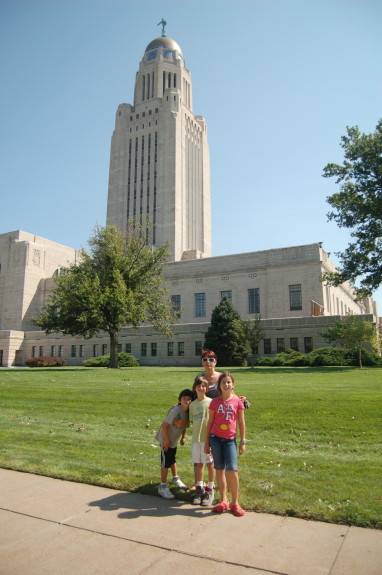 The Nebraska State Capitol Building is a complete standout and one of my all time personal favorites and definitely wins the award for most decorative.  It is completely unique unlike any other I've seen and I absolutely love it. While it does have a dome with I guess what you could call a rotunda, it's atypical in it's height and shape-the building itself is 15 stories high.  Done completely in the art deco style, the building is more like a tower with a dome on top.
One common theme throughout are the bison and Native American Indians and they are beautifully incorporated throughout  in many ways such as  through poetry, mosaics, inlays and friezes.  There are tons of imagery of corn, wheat, and sunflowers as well and my kids and I really enjoyed finding the designs everywhere, even door handles and hinges.  I could have spent an entire day in here admiring the magnificent artwork and trying to understand all the symbolism.  Rarely do you ever get to see so much detail carved into every corner.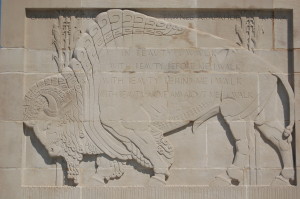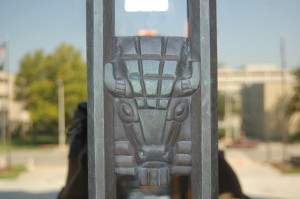 When you are there, look for the East Chamber Doors.  They depict an indian chief and his wife facing each other.  It is truly one of the most beautiful pieces of artwork I have ever seen-and being the daughter of a sculptor, trust me. I've seen a lot.  If you check out the door handles, they are designed to look like very stylized cobbs of corn.  This building is just an absolute gem and I wonder how many Nebraskans have seen it and know how special it really is. Did you notice the corn cobs on the door handles!