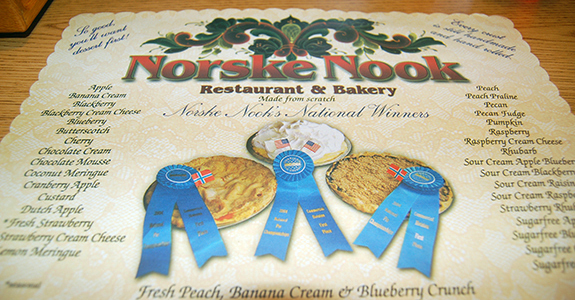 Osseo is a tiny town with a mostly Norwegian population and their claim to fame is the bakery and family style restaurant known as the Norske Nook. After reading about this find in one of our guidebooks, and of course pie being one of our favorite desserts, we could not wait to dive in.  This is some of the finest pie you will find in the whole country, and they have the blue ribbons to prove it. (For any of you who are like us and don't eat pork products, fear not, the crust is made with all-American Crisco).
Highlighting our trip's theme of "the immigrant experience" we couldn't wait try some of the Norwegian cuisine. My daughter sampled a Lefsa (a kind of wrap stuffed with grilled salmon) that was very tasty. We also tried some fried cheese curds that were at once crunchy and gooey in a good but weird cheesy way…and then came the pie.
Call me a little crazy, but I let each person order 2 flavors to sample, so we ended up with 8 different flavors of pie turning our table into a pie tasting event that had the waitress and everyone else in the restaurant wondering what was going on.   Here's what our order looked like:  Cherry, Strawberry, Pecan, Chocolate Mouse, Apple, Boysenberry, Lemon Merengue, and Blueberry.  All I can tell you is each and every one was just incredible!!!! All the fillings were made with fresh fruits or other all natural ingredients and you could tell just by tasting it. Best of all, they were all homemade on the premises.
To this day our "pie tasting" is one of our fondest memories. And the sweetest thing of all is that is something we all did together as a family.  I know it's something my kids will remember for the rest of their lives and hopefully will serve as inspiration to do something a little nutty with their kids one day creating their own happy memories.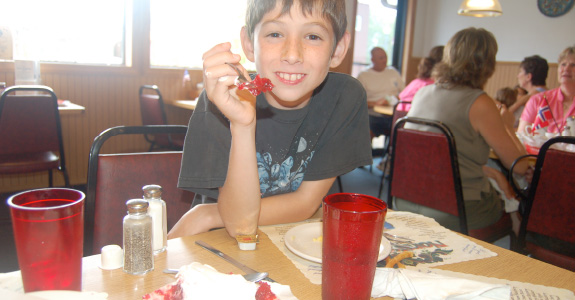 If you are even remotely near here, don't pass up the opportunity to try something really special-and if you are feeling a little nutty yourself, consider  conducting a pie tasting of your own. DO NOT MISS!