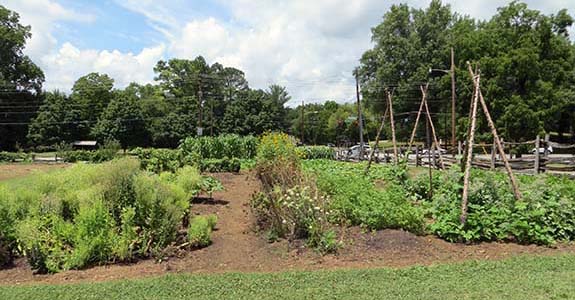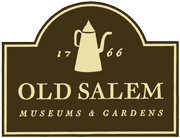 Old Salem Museum and Gardens is another great place to learn about another group who sought religious freedom here in the colonies while experiencing persecution in Europe. Old Salem is home to one of the original Moravian settlements called Bethabara.  The community was established in a 1753 and made up of many that had been persecuted in Europe and fled to the new world for religious freedom. The Moravians were particularly known for their kindness toward passing travelers, aiding them with food and lodging.
Crossing the bridge from the visitors center, it felt like we were crossing through time and space.  We emerged in the settlement complete with original structures, and gardens with costumed guides to explain the history of what we were seeing.  Inside many of the shops we were able to see artisans at work making handicrafts in the same original way.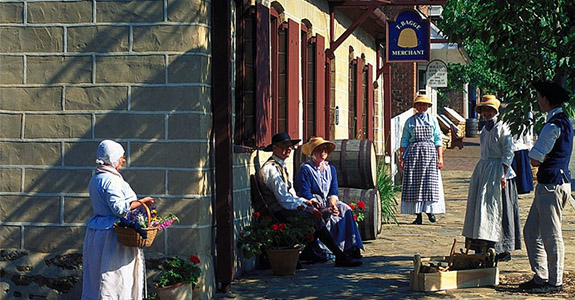 One standout experience was visiting the gunsmith.  Inside we found a lovely gentleman who was working on a hand made rifle.  He showed us briefly how a rifle is put together and then explained to us the difference between a gun and a rifle, something none of us knew anything about.  We learned it's the corkscrew groove inside the barrel that twists the bullet in the chamber so that it flies faster through the air making it much more accurate.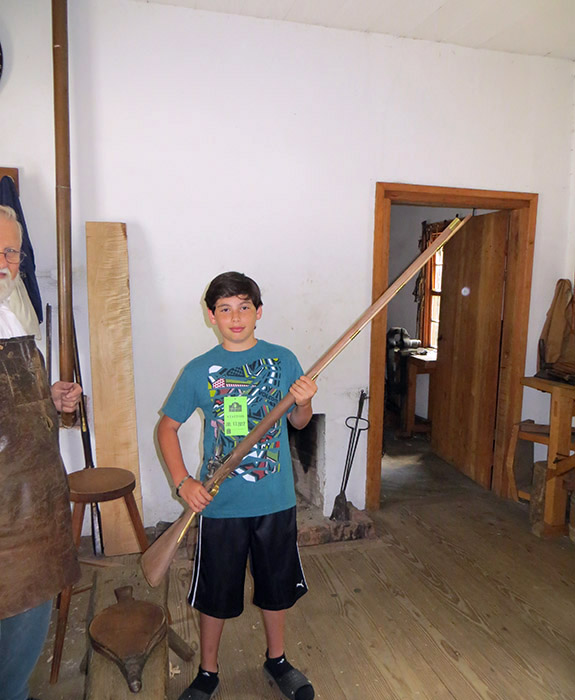 We also visited a hat shop and the gardens and then headed to try the baked goods at Winkler bakery, which bakes Moravian specialties from original recipes and has been open on the premises since 1807. We tried the famous Moravian cookies, which are sort of like a spiced gingerbread and wafer thin and found them so addictive we bought a few tins to bring home.  . We also tried the Moravian breads which are baked in a "dome bake" oven.  They are delicious!  While you are enjoying your bakery treats make sure to get a photo with the world's largest coffee pot which is in the garden.
After our self tour, we headed back to the museum for a little more historical perspective and a visit to the gift shop.  It's amazing how this little enclave has been preserved in time.  I am sure many a weary traveler found refuge here thanks to the generous and kindhearted Moravians.  I love when we learn something new about our American History that we had no clue about before or see something in the flesh that illuminates a point or lesson learned.  Old Salem is a great place to see and learn about a community who was grateful for the freedoms they found in America, who settled here looking for a religious tolerance.  Our country is a better place for their presence here and one can only hope that their ideals and values have not been lost to "progress"