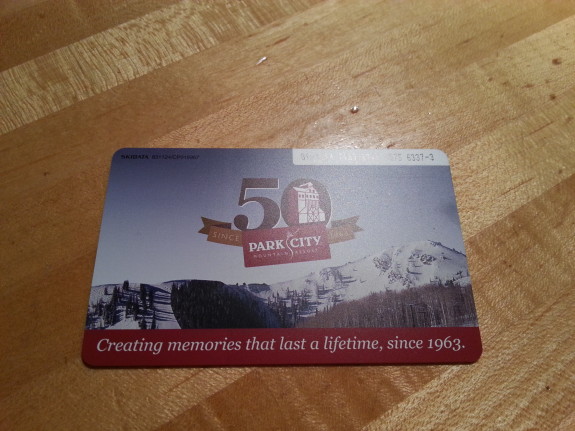 Park City Mountain Resort located within a mile of Main Street is a popular resort offering skiing and snowboarding with a great variety in terrain offering something for everyone from beginners to double black diamond runs.  Not quite as snooty as Deer Valley, Park City caters to everyone and overall seemed much less pretentious.  The powder and the runs are amazing and we just loved watching everyone zip by in their colorful get-ups.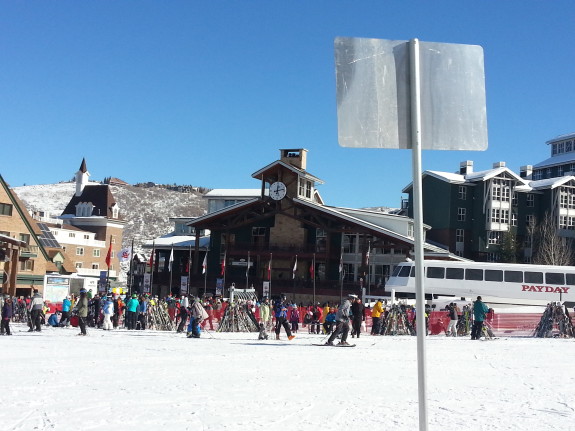 We decided hit this resort first and booked ski lessons here.  This place was crowded christmas week and it was fun to see all the bright colored snow gear and outfits zooming by-we especially loved the spiked and mohawk helmet covers.  You can either do private or group lessons and there are even some lesson packages that come with equipment rental.  The instructors here for the most part are pretty terrific.  We lucked out with a former Olympic skier named Hye who worked with the kids.  They all gave her really high marks.  Jordan and I worked with Greg, a world class skier who was ever so patient and had a terrific personality, upbeat, positive and just fun to be around.  If you get to work with either of those two, you are in very very good hands.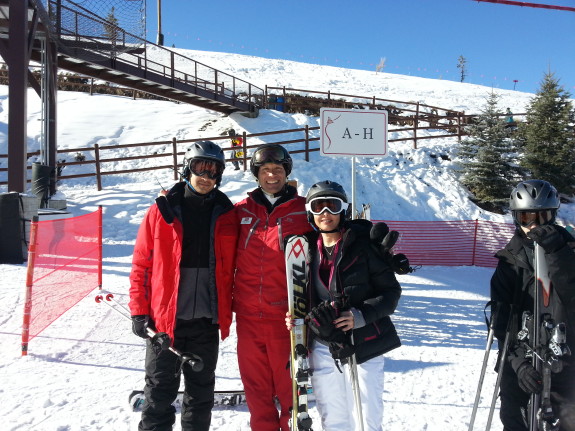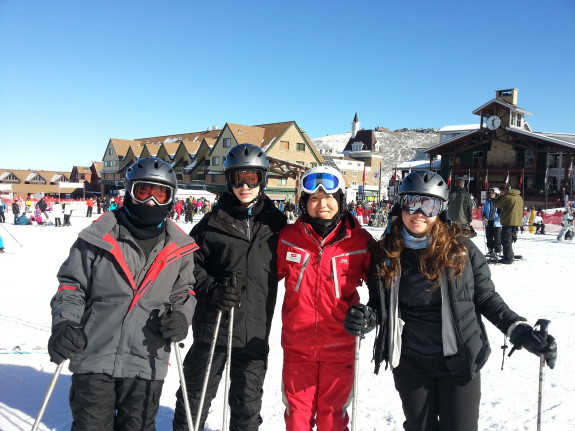 Park City has a fantastic system for your ski lift ticket.  You put it in your pocket (not near your cell phone) and forget it.  It gets scanned automatically every time you pass through the lift gate.  The views from the top were just spectacular and we found the green runs to be very manageable for a beginner.
After our 3 1/2 hour lesson was up, it was time for lunch.  We clicked off our skis and headed to the legacy grill which is a huge buffet style food court.  There was so much to choose from-salad bar, deli sandwiches, burgers, pastas, chili-you name it.  The only thing more difficult than choosing what to eat was finding a place to sit while hunkering around in heavy ski boots.  The food was delicious and really hit the spot after working up a huge appetite on the slopes.  Skiing does burn those calories.
After lunch the boys and I did one more run by ourselves, but I must admit I didn't feel comfortable without having Greg nearby to pick me up if I fell.  Thankfully I managed to go down the entire run without falling down and then we called it a day.  We hiked back to our car lugging our gear totally exhausted.  I think that's one of the things about skiing I am just not crazy about-lugging the gear.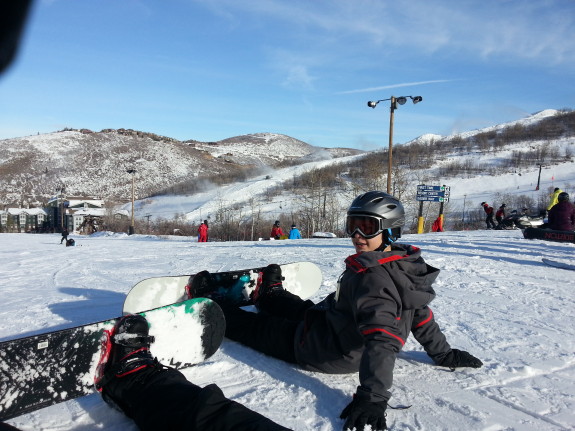 2 days later we were back at Park City Mountain resort, this time to try snowboarding by enrolling in the 'Never, Ever" class.  We all found snowboarding a lot more challenging than skiing, and the fact that our instructor wasn't the greatest didn't help either.  It was fun though and I am really glad we challenged ourselves to try.
Park City Mountain resort is a beautiful place to have a really fun time.  The majestic mountains are a skiers paradise.  If you only have an opportunity to do one resort, this is the one I'd do.