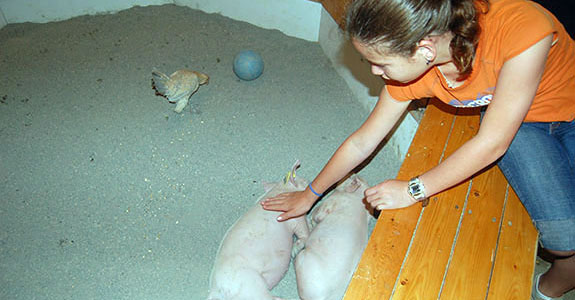 Who doesn't love baby piggies and puppies and kitties?  You can see and touch them as as well as milk a cow and do a bunch of other neat things at the Purina Farms Visitor Center right outside of St. Louis.  Not only did we get to spend time with some adorable animals we also learned all about pet and animal care and what role Purina Farms plays in everything from feeding and taking care of your pet, to working with livestock that are raised for commercial uses.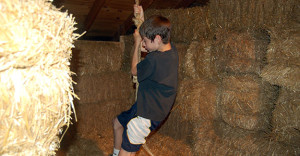 In the commercial animal exhibit, Lilia, Isaac, and Joel each took a turn at milking the cow-(it's not as easy as you think) and then discovered piglets and rabbits that they could pet before heading to the rope swing in the barn (who doesn't want to try that?-it's a lot harder than it looks).
Next we headed to the pet center where we got to hang out with some adorable dogs and cats. Joel my animal loving child had to be pried out of the dog "house".  He could have spent the whole day in there. I know this kid really wants a dog, and I know it would be really good for him too. Maybe when Lilia goes off to college I'll reconsider, but only if it doesn't shed, that's a deal breaker for me. Purina Farms also have some agility courses and some other "performance show" type competitions where the pets do some tricks which would have been really fun to watch, but sadly we missed it as it started to pour rain.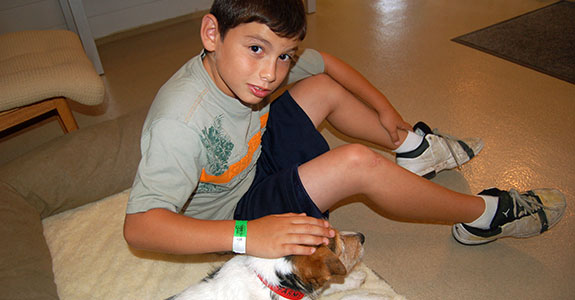 Plan on spending at least an hour and a half here and make sure you make reservations in advance. Click on the link above , and you'll go right to their website with all the information.