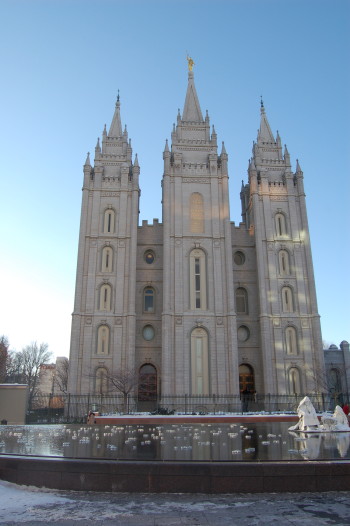 Temple Square is truly the heart of Salt Lake City which encompasses a collection of buildings whose centerpiece is the Salt Lake Temple. While you can't enter this strikingly beautiful building that is undoubtedly the cornerstone of the city, it is pretty impressive to take in up close. The Salt Lake Temple is the largest temple of the Church of Jesus Christ of Latter Day Saints (also known as the Mormon Temple) located on Temple Square. Dedicated in 1893, it's construction took 40 years to complete.
You may not enter the temple if you are not of the Mormon faith but you can learn about it by checking out the Visitor Center next door. Inside we learned about Brigham Young and the LDS movement.  We also were able to see a scale model of the Salt Lake Temple with a cutaway view so we could see the floors and furnishings.  It was quite ornate.  Walking around it was easy to gather how much time, money, and artistry were contributed to make the temple the grand structure that it is.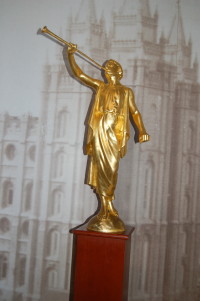 As a "non-believer" I did feel a little uncomfortable afraid that if I made too much eye contact or asked a question, that someone might try to convince me to "see the light". Thankfully, no one tried to convert me. Inside we did learn that the golden trumpet player that is atop every Mormon temple is the Angel Moroni. I have to say, it was a bit of a thrill to see one up close as it's always so high up you can never tell what it actually looks like. Alas, mystery solved!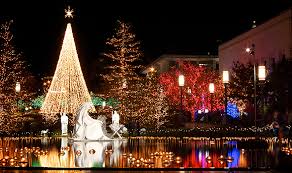 Walking around the exterior of the temple you can really take in how magnificent it is-even if you can't go inside. The stone carving and the sheer size of it are breathtaking.  As our visit was over the  holidays, as the sun began to set the 10 acre compound was awash with a light display unlike any I'd ever seen.  It looked like all the trees were literally sprayed with lights. It was gorgeous.
Prior to leaving we made our way into the Family Research Center directly across from the temple.  Making our way downstairs we found a bunch of cubicles each fitted with a computer.  Sitting down to research our family tree we were immediately met by super friendly staff who helped us navigate our way through the largest collection of genealogical records in the world.  I found info on my great grandmother while my kids were digging up dirt on me...lol (they found out I'd gotten married in Vegas 6 mos. prior to my actual wedding-for tax purposes). After filling in a family tree chart, we were encouraged to take this awesome photo. Super interesting, but again, if you are not of the Mormon faith be wary of being solicited.