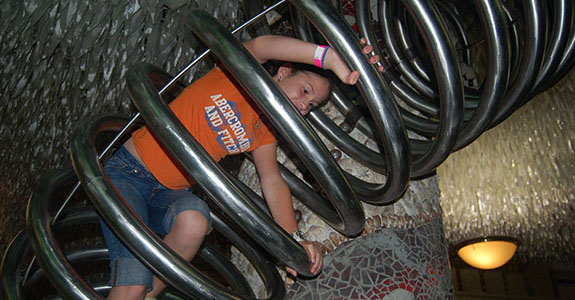 I am not sure I even have words to describe The City Museum, but my kids could not get enough of this place. Imagine a junkyard on steroids that you can play in. It's the playground of your wildest imagination come to life. The "museum" encompasses 4 floors and a rooftop deck where my kids and I spent hours.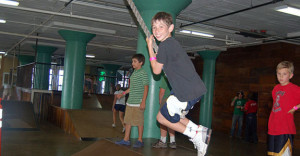 The kids climbed, slid, hung from ropes, crawled and rolled and that was just the tip of the iceberg of all the physical stuff.  There were science projects, arts and crafts and all kinds of knick knacks and odds and ends to play and have fun with from old telephones to typewriters to pterodactyl bones.  We didn't even get to all of it as I am sure it would one whole day at least to discover all there is to see and do at the City Museum.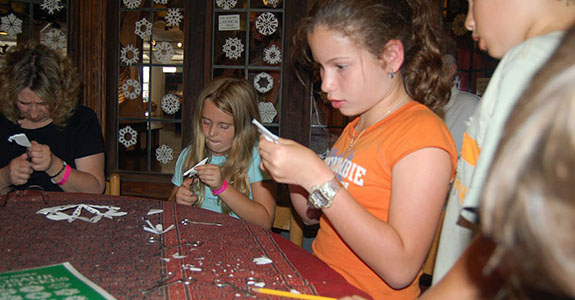 In the art area, there was a glass blowing studio where you could watch how they make colored marbles.  One of our favorite activities was making really unique paper doilies by folding paper and cutting it out paper doll style. . There was a lovely woman who showed us how to fold the paper, then trace the design (I did a dragon, Lilia did a polar bear), and cut it out with some special tools.   We all sat in a circle around a table with a variety of cutting tools in the center and we very carefully cut along the lines we'd traced. When we finished cutting, we opened to reveal a true piece of art which we got laminated immediately.  It is now a treasured keepsake.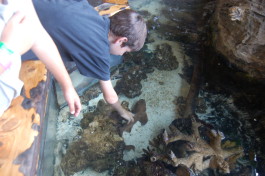 They have a snack bar/restaurant on the second or third floor, I can't remember and the food was pretty decent for pizza and greek salad.  For an extra fee you can go into see some really cool marine exhibits they have in one special room. Honestly going in there felt like you were entering the lab of a mad scientist with all kinds of weird bottles and jars full of stuff dead and alive.  Towards the end I totally pooped out and sat on the remains of an old streetcar up on the rooftop deck while my kids buzzed around.  I finally gathered the troops and called it quits.  If this isn't proof that this place rocks then I don't know what it...as we headed to the car, Joel insisted we come back after dinner since it was open till 1am (to which of course I said no).  He still occasionally asks if we can go back.  Even now at age 14  I still think he'd get a huge kick out of it.  Geez, I am coming up with way too many reasons to return to St. Louis...