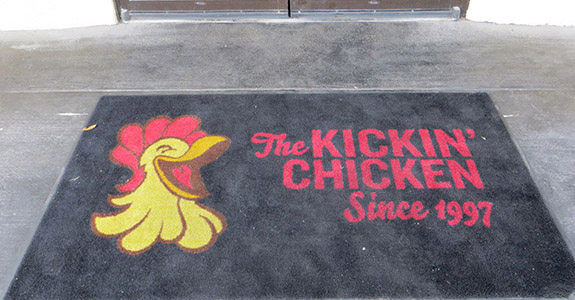 The whole time we'd been driving around the region we'd seen tons of fried chicken restaurants everywhere we looked,  Popeyes, Church's, Bojangles just to name a few.  Fried Chicken is a staple of the south and clearly something we needed to try so as we were making our way from Charleston to Columbia we decided to sample the fixin's at…The Kickin Chicken.
This is a causal sit down restaurant chain with a sort of fun sports bar type vibe.  Looking at the menu there were a nice variety of way's to get your fried chicken fix.  You can have wings, nuggets, pieces or a salad with some chicken in it.  The boys opted for some fried chicken pieces and Lilia and I chose the salads with pieces of fried chicken in it.  Every body thought it was super tasty. What is it about fried chicken that is so magical?  There's just something about that salty, crispy, chicken-y goodness that is hard not to love. BTW, They also have burgers, and wraps and a variety of other yummy items if you are craving something other than fried chicken. I was also glad to see that many of the items like the salads and sandwiches had the option of grilled chicken instead of fried as a healthier alternative.
You can count us as fans, but as we sat and ate, we also talked about why fried chicken is a once in a while treat and not something we would choose to eat often.  Fried food is fun to eat now and then, but it's not a healthy food to eat all the time.  As a mom, I think it's really important to talk about healthy options and eating right and sitting in the Kickin' Chicken was a great opportunity to do that.  Often times things that taste really great are not necessarily great for you, and so I try to teach my kids how to establish their own limits and that most things are ok in moderation and they get it.  To that point, as a family we don't eat fried food very often, but since it is such an important part of southern culture and that's what we were exploring on our trip, we wanted to experience it.  The Kickin' Chicken gave us a memorable culinary experience we won't soon forget and if you are in Charleston, it's a great place to get your fried chicken fix! We give it a thumbs up.