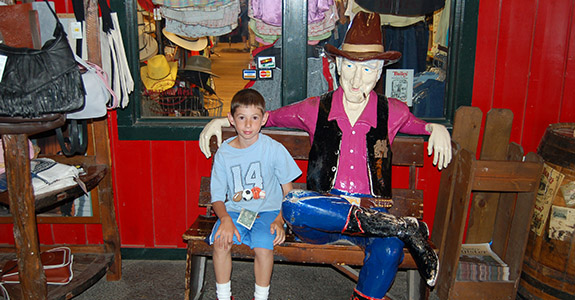 All the guidebooks we use to plan our trips said Wall Drug is a not to be missed stop.  As we were driving along  Highway 90 leaving Rapid City on our way to the Badlands we were beckoned by the colorful roadside signs that sporadically appeared and started to become much more frequent the closer we got.  As we got close there was so much hype and hoopla that we just had to stop although we were not sure exactly what we were going to see.
When we finally arrived the parking lot was packed and we were antsy to find out what all the fuss was about.  Wall Drug is tough to describe.  It's and odd collection of little boutiques strung together.  It must have been a drug store that just kept growing as folks on the highway kept stopping in to pick up supplies, snacks, and other interesting souvenirs.  There's the drug store, the candy shop, the western wear shop, the restaurant, the antique mall and a ton more places to peruse and shmooze.  There are also lots of strange and funny painted figures you can pose with sprinkled all over the complex.
We got our requisite piece of fudge to sample, (we just can't say no to fudge) and wandered around a bit, but left scratching our heads about this place.  Consider it an interesting pit stop to grab a taste of something, stretch your legs, and take a few funny photos before heading back out of the highway.