I was really sad to read that the Weaver Potato Chip Factory just closed costing 70 folks their jobs.  Weaver's had been around for 76 years-and that's a long time.  They had their ups and downs during hard economic times but with an infusion of some new investment money they were making progress turning the company around.  Sadly just as they were getting going, their  Nebraska potato supplier sent their much needed potatoes to Frito Lay.  They tried potatoes from Texas but they just didn't fry up the right way, turning brown too quickly because of the high sugar content.  Weaver  just couldn't hold on any longer and recently shut their doors for good.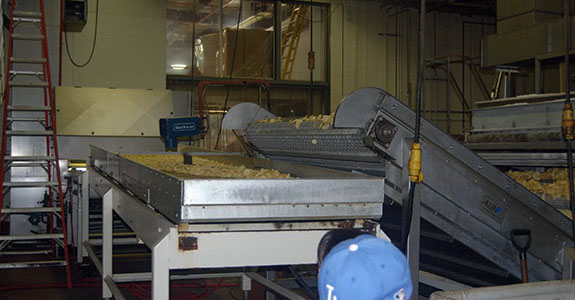 I am so grateful we had the opportunity to tour the factory while it was still making chips, and cheesy popcorn and tortilla chips.  When we arrived we were greeted by a basket of warm chips right out of the fryer.  They were mighty delicious.  An older gentleman served as our guide walking us through the small factory showing us how the potatoes arrived, were washed, sliced and then plopped right into the hot oil bobbing up and down as they make their way cooking to golden perfection. We watched how the popcorn was popped and coated in the cheesy flavor tumbling in drum like containers and got to taste tortilla chips coming right off the line.  As we walked through I saw hard working Americans doing their best to make a quality product who were proud of what they were doing and eager to share it with us.  Right then and there in that  factory I felt it, the spirit that makes America great.
At the conclusion of our tour we were given bags of snacks to take with us on the road. The whole thing felt like a family affair and there was a warmth and wholesomeness to the whole experience that's hard to describe.  I am forever grateful to those hard working employees at Weaver for giving us a road trip memory that we won't soon forget.  I cannot tell you how sad I am now knowing that those good folks are out of a job and that Weaver is no longer making chips and other delicious snacks and my heart goes out to each and every one of them.  For as big as Frito-Lay is, they will never be able to make a wholesome preservative free product that is filled with love and pride like they did at Weaver and that is a great loss.