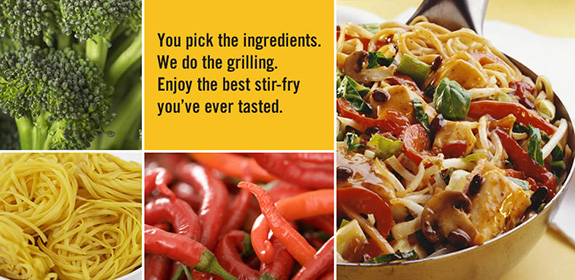 My kids and I had discovered BD's Mongolian Grill on Trip #10 in Milwaukee and could not wait to try it again.  We were thrilled to discover a location in Dearborn right near our hotel and could not wait to see what our travel buddies Yvonne, Abigail and Jacob thought about it.
When we arrived it was absolutely packed with a 35-45 minute wait for dinner.  This place is incredibly popular and for good reason so make sure you call ahead and put your name down on the list to lessen your wait time.   BD's is  all you can eat Mongolian bbq—the best solution for picky eaters because everyone can pick and choose and assemble their own plate to their liking...and did I saw it's all you can eat?
As a mom, I also love that any way you slice it, my kids are going to eat an incredibly healthy meal.  Lots of veggies, lean meats and noodles or rice.  Once the plate is assembled you just hand it to the cook to stir fry's it up on the super hot grill. No deep frying here. Vegetarian? Not a problem, they'll cook yours on a separate part of the grill.  The absolute best part of the meal from the parents' perspective is the fact that the kids can manage it by themselves (well at least if they are about 7 and up).  They get their plates and they are off to the races, creating their own little Mt. Everest of healthy options seasoned with their own special mix of flavors.  No arguing over the menu, nobody leaves hungry.  How can you go wrong?  Family friendly dining at it's finest!  Oh, and make sure you hit the gong before you leave.