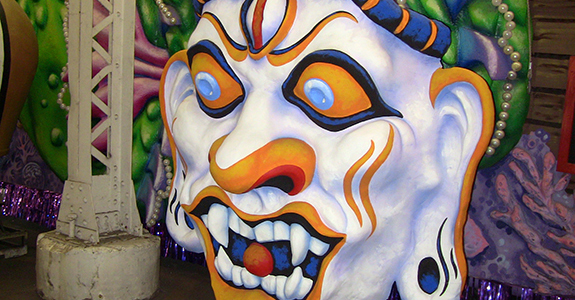 When New Orleans is not celebrating Mardi Gras, you'll find the majority of the floats at Blaine Kern's Mardi Gras World. Blaine Kern is THE name in New Orleans parade floats, and they are just spectacular up-close and personal. We were given a short orientation and learned about Mardi Gras which in English means "Fat Tuesday"—the last day to party before Ash Wednesday and Lent. After watching a short film, we got to dress up in Mardi Gras costumes and then got to eat a piece of King cake, a special colorful caked baked specially for Mardi Gras.  If your piece has the little baby Jesus in it, you get a prize! (provided that you don't choke on, it's pretty small)  Abigail, Yvonne's daughter found the baby in her piece of cake and she was awarded some special Mardi Gras beads for a prize.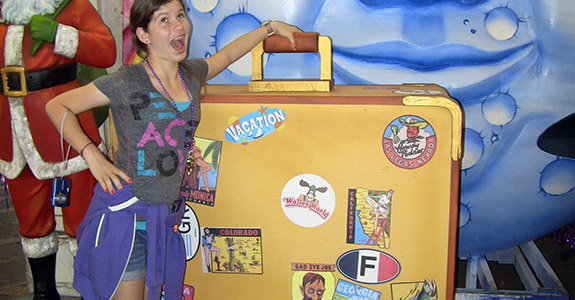 Afterwards we headed into the warehouse to take a tour of the factory  and see where all the floats are stored.  The floats are created by stacking and sculpting large pieces of styrofoam which are then painted in fantastically bright colors.  Seeing the designs in progress I imagined this is what the workshop at Disneyland must look like too.  Besides Mardi Gras floats, Blaine Kern also does work for advertising agencies and movie studios and we saw some famous displays like Captain Morgan of Captain Morgan Rum fame.
Once we saw how the floats were crafted we walked around to see the storage area where the floats are kept.  Our guide explained that there are different social clubs in the city called Krewes who finance the creation of their floats and then ride in them throwing beads into the crowds.  Some of the krewes are quite famous and have been sponsoring Mardi Gras floats for decades like the Zulu Krewe or the Rex Krewe.  Famous singer and recording artist Harry Connick Jr. has his own krewe he started called Orpheus.  We saw some of their floats from past parades.  On average a float costs about $50,000 so you can imagine it's pretty costly to join a krewe.  The folks who ride on the floats also have to buy their own beads to throw and that can also get pretty pricey.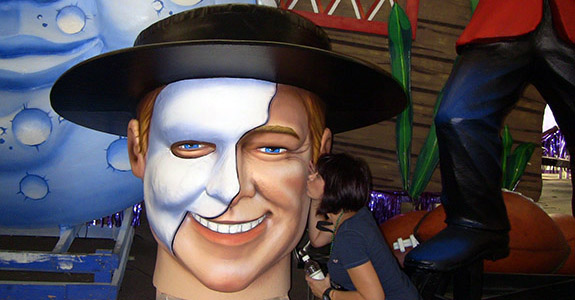 Walking around we saw just about every kind of design you could imagine and the kids and I had a blast posing for some pretty outrageous photos.  We just loved seeing this fantasy world and to experience the color and pageantry of Mardi Gras without the partying and crazy madness in the streets (which I think we all know is no place for kids).  This was an experience we will never forget, and if you get to New Orleans, Mardi Gras World is an absolute DO NOT MISS!