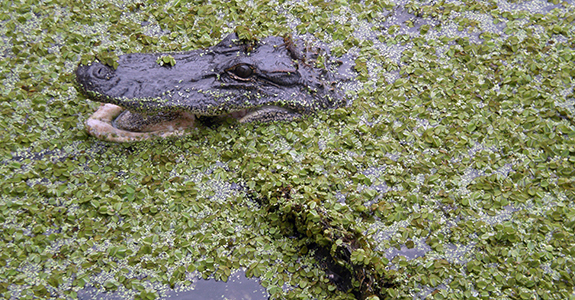 You absolutely cannot visit Louisiana without exploring life on the bayou by doing a swamp tour.  I don't know about where you live, but nothing could be further from the ecosystems where we live in California, so we could not wait to learn more about it.  We chose an outfit called Cajun Pride Swamp Tours and I would highly recommend them.  If you're staying in New Orleans, they will pick you up and take you to the swamp tour location. Since we were coming from that direction, we just drove there directly there and afterward headed south to New Orleans.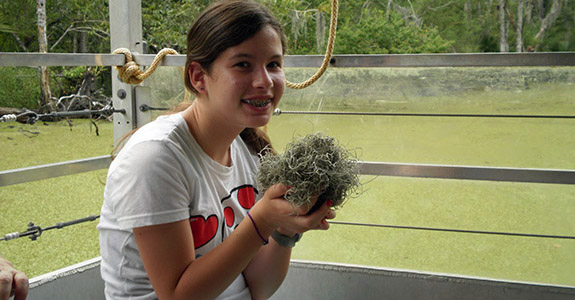 We boarded our boat called the Cajun Queen and headed out.  The first thing that struck me was that the water was absolutely covered with a tiny green plant.  It looked like a lush well manicured lawn, until all of a sudden we saw a pair of eyes pop up and sure enough it was an alligator. Our guide gave us lots of information on the gators and other wildlife in the area.  As we cruised along we also learned about the plants, especially about the Spanish Moss which is a type of plant called an epiphyte, meaning it derives all it's nutrients from the air usually living on the branches of other trees that you find all over the south in the humid swampy parts.  He gave us some to touch and it was really soft.  He explained that the bayou folk have various uses for the spanish moss, the most popular being pillow stuffing.  However, it needs to be boiled first, because it is also home to some nasty little critters called chiggers which are like fleas or bed bugs and will eat you alive.    At one point our guide went out on a little plank and began feeding the gators some raw chicken.  In his thick cajun drawl he would egg on the gators getting them to jump out of the water to catch the tasty morsel.  He also threw them marshmallows which the really seemed to enjoy.  Later on he let all of us feed the gators by giving us some marshmallows to toss to them.
Next, our guide then had a real surprise for us.  From a box he took out a tiny baby alligator named Little Elvis.  It was really adorable, as much as an alligator can be adorable.  He gave us some handling instructions, telling us to stay away from the "bite zone" and then let each of us hold him. The kids were beside themselves.  The just loved it and so did Yvonne and I.  What a thrill.  We also learned about Cajun culture and life out in these parts. It's some rough living, but the folks who live here truly love it.  And one last word of warning, you will see bugs out here that are truly flying animals.  They are huge, some are beautiful like the dragonflies we saw, and some are just nasty.  Be prepared.  All in all our swamp tour was educational and very entertaining. Just holding Little Elvis alone was enough to qualify as a  DO NOT MISS!