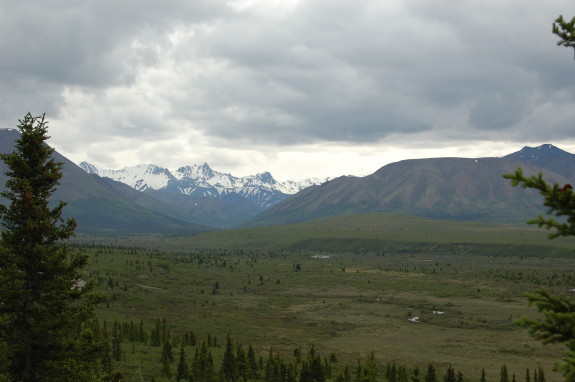 Denali National Park is one of the most spectacular parks in the world and it's sheer size makes it difficult to see without spending a huge amount of time here. Denali, means "The high one" and is the Athabascan (the local native Alaskan village) name for Mt. McKinley.  It has been a national park since 1917 and it is one of the last remaining places in the Unites States that we call wilderness.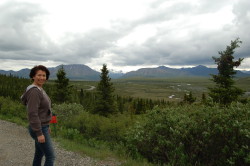 In doing our research we discovered that in order to really see and experience the park you need to commit 8 hours to being on a bus (4 hours each way).  Private vehicles may only drive 15 miles into the park before turning around to head back.  Only park buses can go past that point. Animals are said to be in abundance such as Dall sheep, caribou, wolves, bears and moose.  To be honest, an 8 hour bus ride to see some wild animals just wasn't worth it for me and my kids so here's what we did to experience Denali.
We checked out the visitor center which has awesome displays about the wildlife and the early folks who made this their home and conservationists whose efforts to create the park were rewarded with the establishment of the park for everyone to enjoy. We also checked out a movie about the seasons in Denali which was stunningly beautiful to watch. Take your time here, there is a lot to see.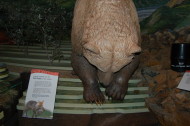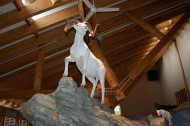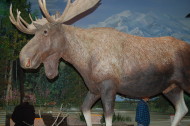 There is also a wonderful cafeteria with a surprisingly good selection of sandwiches, salads, and burgers. The gift shop was also pretty amazing with some interesting gifts I haven't seen anywhere else.  If you are up for a hike there are numerous trailheads near the visitor center area.  We aren't the hiking type so we hopped into the car and proceeded down the 15 mile trek.  The rangers had warned us it would be unlikely that we'd see any wildlife and they were right.  The wildlife is much more abundant about 2 hours in but alas, there was no way I was going to sit on a bus for that long.  It was still a beautiful drive.
To do it right, Denali is a full day adventure and every traveler has to decide if it's time well spent for them.  We decided that it was enough that we were there without doing the bus ride-should you choose to visit Denali, you'll have to decide what's right for you.  On the drive up from Anchorage we had a wonderful view of Mt. McKinley from the highway so I didn't feel like we missed anything.
The big takeaway for me of Denali and the surrounding area, is the absence of people.  Denali is an Eden, untouched, unspoiled and totally natural. We all felt humbled by it's enormity. In whatever way you choose to do Denali, you will be moved.