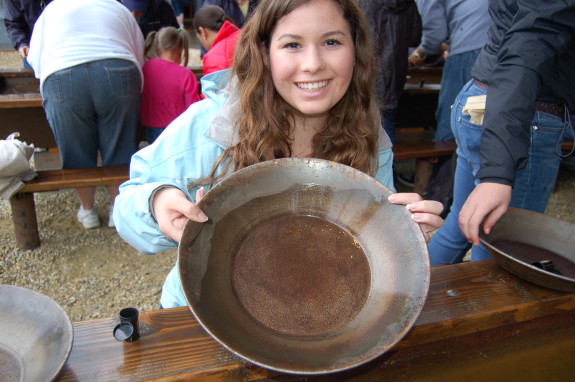 So who doesn't have a dream to strike it rich? It's that spirit that propelled the huge gold rush that's a very important part of Alaska's and in particular Fairbanks' history. People have been mining here since the early 1900's and though techniques have changed over time, gold mining is still big business on the outskirts of this city in Alaska's northern interior.  Gold Dredge 8 is a really great place to learn about the history and the evolution of gold mining here in Fairbanks.  The best part though as my 3 kids will tell you, is the chance to pan for gold yourself.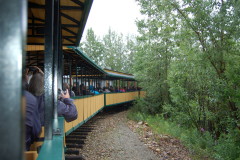 The day we arrived for our tour rain showers had set in but that made no difference, the tour went on as scheduled.  All the "miners" who were there to showcase the various techniques just carried on in the rain, which I am guessing it isn't that big of a deal for hearty Alaskans.  After checking in at the ticket booth we made our way to the train depot as the first part of the tour took place on an open air tram.  Be forewarned, this attraction is big with the large tour groups but don't let that deter you from the experience.  Even though it felt very "touristy" it was a lot of fun and very educational.
Our tram made a few stops where we learned about the discovery of gold here in the area by a prospector named Felix Pedro that sparked an enormous gold rush here in Fairbanks. We also learned about the history of the Gold Dredge 8 mine and  the various techniques that were used over time to get to the gold that was buried in the frozen ground often times mined in the dead of winter. From underground tunnels the technique evolved to pumping water into the "permafrost" (or permanently frozen ground) to soften it, digging down to the bedrock and then dredging the "paydirt" where the heavy gold had settled.  We listened to Yukon Yonda, a resident gold mining legend describe the dredging and sluicing technique and then watched some miners demonstrate the panning technique.  It was all incredibly interesting and we were able to actually see "colors" or gold flecks as they are called in the miner's pan.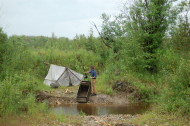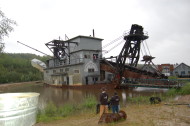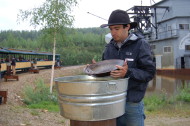 After learning about the dredge, the train moved on to our next stop for our turn at panning for our own gold.  Exiting the train, my kids and I could feel the "gold fever" set in and we raced to grab our own little baggies of paydirt and find an open seat at the panning tables (which have heated water by the way so your hands won't freeze- a really nice touch I might add!).  Isaac took to it like a pro, swirling and sifting letting the heavy gold sink down to the bottom while allowing the larger gravel to leave the pan.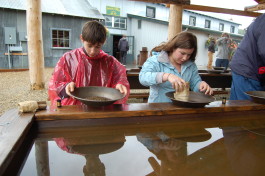 I must say there really is something to the technique.  Poor Joel was so paranoid he was going to lose his gold in the water he was almost too afraid to pan it.  Luckily there were lot's of mining guides on hand to give everyone some help and one by one the colors started to appear in our pans.  We were all so excited to see real gold and it was easy to see and feel what those miners felt must have felt when they struck it rich here in Fairbanks.
Back then the government bought the gold for $35 an ounce.  Over 8 million ounces or over 250 tons of gold have been mined in Fairbanks alone and gold mining still takes place in privately held mines in the surrounding areas. After gathering our gold flecks into a little container we brought them into the gift shop where they were weighed.  Lilia was our big winner with about $25 worth, I got the least about $6.
The gift shop is loaded with all kind of stuff and be forewarned you'll be in there for a good 30 minutes till your tram takes you back to the entrance.  You can make jewelry with your flakes or take them home in the little black container.  You can also hold a huge gold nugget valued at $75,000.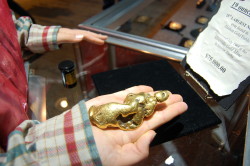 There is a great assortment of souvenirs so make the most of your time here if you haven't had a good opportunity to shop on your trip.  And don't forget to enjoy the awesome fresh baked cookies.  Chocolate chip, snickerdoodle and peanut butter hit the spot and were utterly delicious, nothing better than a warm slightly gooey cookie on an wet and rainy day.  I take that back, nothing betting than having an amazing time finding some gold with your kids AND sharing some warm gooey cookies.  Another great activity where teenagers were impressed and had a great time talking about how "fun" it was.  In my book, that's a Do NOT MISS!