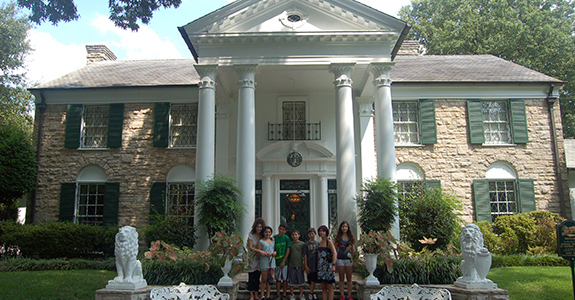 Just like you can't miss the Opry in Nashville, so, too, you cannot miss Graceland in Memphis, the legendary home of the undisputed king of Rock and Roll, Elvis Presley. It would be absolutely sacrilegious! On our way in the car we played a selection of Elvis songs that I burned to a CD so the kids good get familiar with Elvis' music.  My first impression after stepping off the shuttle bus in front of the house, was that it was a lot smaller than I expected, I don't know why I assumed it would be this huge mansion, but I guess for the standards of the day and for Memphis it was a pretty big deal.  There's no doubt that the over the top décor inside more than made up for its small physical stature. I am not sure I can describe it, but it must have been just outrageous in it's day and in all honesty, it still is!
The living room with it's vivid blue and stained glass peacocks really showcases Elvis' gorgeous grand piano.  The  jungle room was one of the most unique rooms I have ever seen done in greens and browns with furniture made of natural tree trunks-right out of an African safari., and the lounge downstairs did not disappoint. A groovy combination of black, white and yellow and a wall with 3 color TVs, so state of the art for it's day.  When you go, look for the ceramic monkey in the room, it's too cute.  What also struck us was the contrast between the outrageous decor and the simplicity of other parts of the house like the kitchen and Elvis' parents' bedroom which just goes to show you that in spite of his fame and wealth, Elvis never lost touch with his earlier life and appreciated the simple pleasure like his mom's cooking.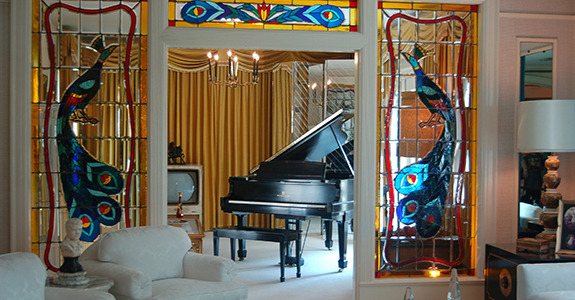 After touring the house, we headed into another area that houses the King's gold and platinum records, and for me the most memorable of all, those jumpsuits. To be just on the other side of a glass case of one of those jumpsuits was a thrill I cannot describe. Looking at them, I thought about what Elvis' life was like during the jumpsuit phase, how in spite of his incredible success as an artist, his personal life was falling apart.  As we left that display and headed to the yard and on toward the graves of Elvis and his parents, I was struck by the sight of a small swing set that was Lisa Marie's.  What was really odd to me was that this wasn't a super fancy swing set, but it was the same type I grew up with as a kid, the K-mart special that was flimsy and shook when you swung too high.  It had two single swings and a little coaster where 4 small kids could fit.  I thought for a second how crazy it was that Lisa Marie, a girl whose life was so different than mine, the daughter or the king of Rock and Roll, had shared an identical experience playing as a kid on the same swing set.  I wondered if Elvis had put it together just like my dad had done.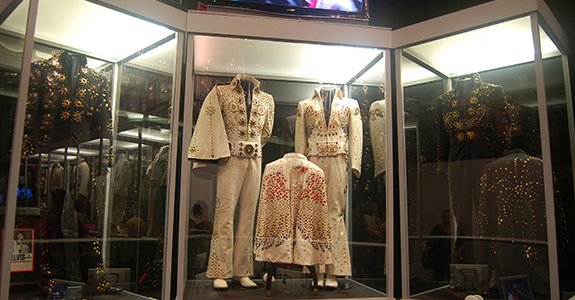 Continue on and you will end up at the graves of Elvis and his parents. As we all stood around the graves, I think the one thought on everyone's mind was how sad it was to have had such an amazing talent die too young. The day we were there was the anniversary of his death, and the grave was covered in flowers, pictures and poetry. It was overflowing with love and devotion and it was so moving to read the heartfelt tributes.  Elvis was so beloved and his music touched so many people. Although much of Elvis' life was glitz and glamour visiting Graceland made us realize that he was really just a small town boy who loved his family. Because Elvis is such a huge part of American music history, Graceland is an absolute DO NOT MISS!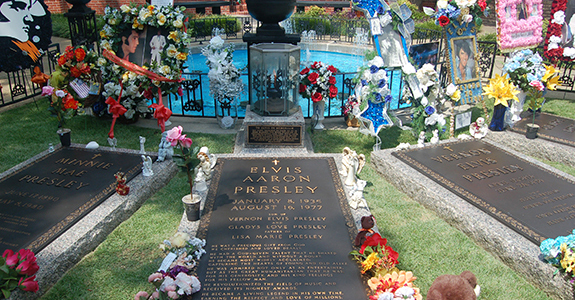 Oh, and by the way, when you're done, head across the street to the Elvis Museum and the Lisa Marie (Elvis' private plane).