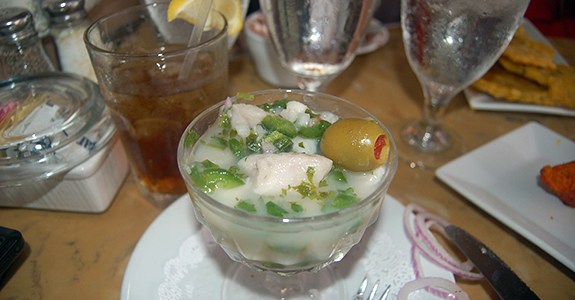 Miami has a huge Cuban population-most of whom arrived here seeking political asylum after leaving Cuba when it became a communist country under Fidel Castro.  Cuban food is very flavorful and unique combining the Caribean island flavors with those of spanish origin. To get to know more about the Cuban influence in Miami and to explore it's cuisine  I decided to treat my kids to a Cuban food experience at one of my personal favorite restaurants, Larios—right across the from the water in South Beach.
For appetizers we ordered some Ceviche (raw fish cured in lemon juice) and some Baccalaitos (cod fish fritters). My kids had never tried ceviche, and everyone commented on how delicious and fresh tasting it was. The tasting continued with some aranitas (literal translation is spiders) which are fritters made of shredded Yucca plant  and some maduros-sauteed bananas in carmelized sugar. We had some grilled fish and salads, plantains, rice and black beans, and Flan (crème caramel) for dessert…oh-so heavenly. The kids really got into the food tasting and were open to trying everything I ordered. It was a great time! I believe Larios is part of a group of restaurants owned by Gloria Estefan and her husband, Emilio, of the Miami Sound Machine Fame. At night there is live music so you can even dance the salsa.
If you get to Miami, experience Cuban cuisine at it's very best! Oh and by the way, they also have a location at Downtown Disney and it's called Bongo's Cafe.