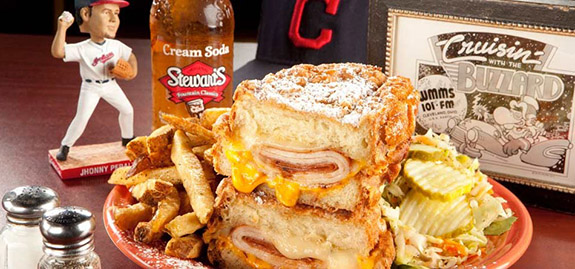 For an over the top original dinner, check out the most amazing grilled cheese restaurant ever…Melt Bar and Grilled!
My kids and I are big fans of Adam Richman's show, Man vs. Food (The Travel Channel). They profiled this restaurant on an episode and it looked so good, we thought we'd try it. Everyone was so excited on the car ride over and I was afraid we'd oversold it to our fellow travelers.  There's no worse feeling than talking something up to friends and then it falls flat.  Well, thankfully, in this case the opposite happened... it was ten times better than I could have ever imagined.
The décor is kitschy/weird-you know what I'm talking about... lighted garden gnomes wearing mardi gras beads and grandmas bric a brac everywhere, and the scene is just completely happening. There are people everywhere, it's loud, and plates are stacked with crazy looking sandwiches and mountains of fries-This place is rocking and rolling and the hustle and bustle is always a sign that a restaurant is doing something right.  I strongly suggest you make a reservation or be prepared to wait awhile unless you are lucky enough to snag seats at the bar like we did by some miracle of G-d.
Take a trip down memory lane as the menus are printed on old record album covers-how cool is that?  I got the Steve Miller band, one of my faves from back in the day. I am just loving this place and I haven't even gotten my food yet.   On the menu, you'll find every kind of grilled cheese you can imagine, and then some—even soy cheese.-you can pick one of their combos or come up with your own by picking the bread, the cheese, and a ton of other goodies to give it some zing.  Everyone ordered up and when the plates arrived, it was as if  the heavens opened and the angels were singing....ooey gooey cheesy bliss is the only way to describe it.  The 7 of us savored every bite and You will too.—beyond delicious. Melt, we love you! And the highest compliment I can give, is that I'd fly back in a heartbeat just to eat there again....Do Not MISS this shrine to the ultimate comfort food, grilled cheese.  As my kids would say...It's the BOMB!