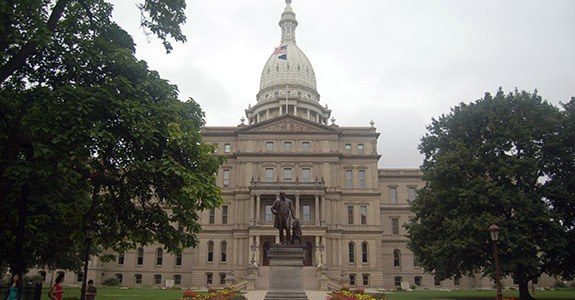 The Michigan State Capitol Building was by far one of everyone's favorites.  Walking into the stately domed building we were immediately struck by the wonderful use of color from the faux marble finishes to the checkerboard floors to the displays of the flags in the  glass cases.
As we were walking around and commenting, one of the artisans who oversaw much of the renovations overheard our conversation and ended up giving us an impromptu tour.  He showed us how they create the look of veined marble by using paint and also explained how they installed the scaffolding to the top of the dome so it could be painted and repaired.  I am not sure I would be brave enough to work that high up on scaffolding looking up at the ceiling and painting...It reminded me of how Michaelangelo must have painted the Sistine Chapel. My hat's off to those artists.  Look up at the dome, and it looks like a gorgeous jewel box or a Faberge' egg.  It is simply stunning!
We explored both houses of the legislature and peered into the governor's office taking it all in very quickly so we could get back on the road toward our next destination.