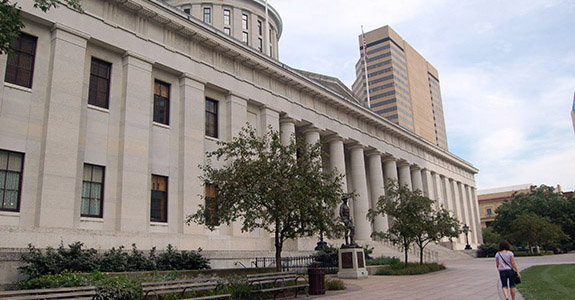 As state capitol buildings go, the Ohio State Capitol Building is nice, but not spectacular-at least compared to some of the others we've seen. The rotunda is pretty in muted shades of rose and aqua but it just feels like it's missing a little pizzazz-you know what I mean, sugar and spice and everything nice. There is some artwork but nothing to knock your socks off.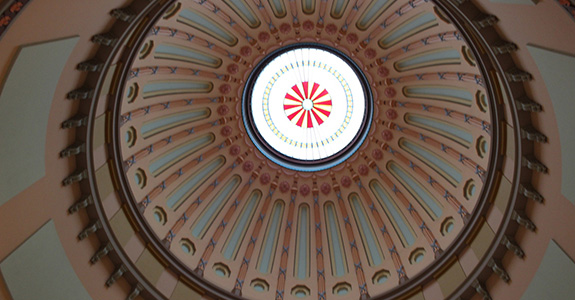 So after you check out the main floor go downstairs to the gift shop. Right in front of it in the floor is a really neat map of Ohio with each county in a different color.  For some reason made me think of the Pretenders song "My City Was Gone"
I went back to Ohio
but my city was gone
there was no train station
there was no downtown
south Howard had dispeared
all my favorite places
my city had been pulled down
reduced to parking spaces
A, O, way to go Ohio
well I went back to Ohio
but my family was gone
I stood on the back porch
there was nobody home
I was stunned and amazed
my childhood memories
slowly swirled past
like the wind through the trees
A, O, Oh way to go Ohio
I went back to Ohio
but my pretty countryside
had been paved down the middle
by a government that had no pride
the farms of Ohio
Had been replaced by shopping malls
and Muzak fill the air
from Seneca to Cuyahoga Falls
said, A, O, Oh way to go Ohio
We checked out the awesome gift shop and even bagged a squish penny.  If you can, taste a Buckeye, a regional Ohio treat that they sell in front of the cash register. I bought one for everyone to try, and they were a huge hit with my group.  It's a confection of a peanut butter fudge ball dipped into a ring of chocolate.  C'mon now, who doesn't love peanut butter and chocolate together. Afterward, do what we did and check out the enormous sate seal outside. A, O, Oh Way to go Ohio!