Besides and abundance of shells, Sanibel Island is also a great place to see bottlenose dolphin in their natural habitat.  We found out that the best way to see them is on a boat, which was not only fun for us, but apparently fun for the dolphins as well. We booked a trip on the Sanibel Thriller, a high powered speedboat that cruises around looking for pods of dolphin and then cruises by encouraging the dolphin to jump and swim alongside the boat which apparently they love to do. The boat was gorgeous and well maintained. The crew was super friendly and professional and all in all we had an absolutely fantastic time and would highly recommend them. I strongly urge if you're heading out during colder months like we were, to take a sweater.  My kids were awful sorry for not listening to me after they refused to take theirs and they froze.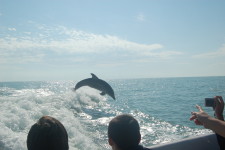 We cruised out of  the harbor following the shoreline. It wasn't long till our captain alerted us that he'd spotted a pod of dolphin.   We picked up speed racing toward them. Soon enough the dolphin were clearly visible alongside the boat keeping up with our fast speed.  All of a sudden They started to jump and flip out of the water, sometimes so close to the boat you'd think they'll crash into it. It was beyond thrilling because these animals are at home in their natural habitat, not in pens doing tricks. These are things they do naturally because they are having fun. As we cruised around looking for pods, the captain gave us a little history about Sanibel and its sister island, Captiva-which apparently were at one time pirate strongholds.  BTW, the back row is the best place to see the dolphins (and make sure you listen to mom and take a sweater as it can get a little chilly when you're moving that fast). DO NOT MISS!
(I took this shot; in fact, I had so many like this I had a tough time picking which one to post) These guys literally looked like they were going to jump in the boat!