One of Mississippi's biggest industries along the gulf coast is shrimping.  If you've watched the movie Forrest Gump, then you've seen how Forrest and his friend Bubba buy a shrimp boat and go into the shrimping business starting the Bubba Gump Shrimp Company.  Since shrimping is so important to this area we thought it would be just fantastic to take a shrimp boat tour and learn all about these creatures who play such an important part of the local economy.  In the town of Gulfport we headed out on the water with the Biloxi Shrimping Boat Tour for a short but definitely memorable adventure.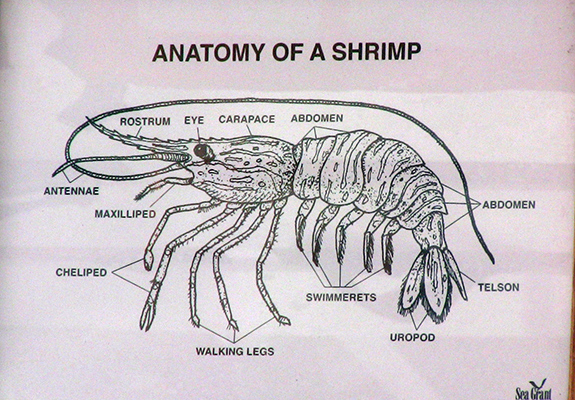 So we've all seen shrimp in a restaurant—right? But do you know what these guys look like in the ocean and how they're caught? You'd be amazed.  After getting on board and doing the prerequisite safety demo, we set out cruising around the bay. After explaining about the local area and about shrimp in general and their anatomy, the crew lowered a small net into the water dragging it around on the ocean floor. After about 10 minutes cruising time, it was time to haul up the catch.  The Captain flipped a switch and the winch slowly but steadily pulled the line out of the water. Meanwhile a noisy bunch of seagulls hovered about waiting to steal whatever we caught in the net.   Finally the net emerged from the water filled with all kinds of treasures from the sea.  There were small fish, some blue crabs, some squid and oh yes, lots of shrimp.  Holding each one up for everyone to see, the captain explained the characteristics of the various creatures they'd caught and proceeded to put a few of them in a large fish-tank  on deck for everyone to see. The rest got thrown to the seagulls who were very noisily waiting for their snack.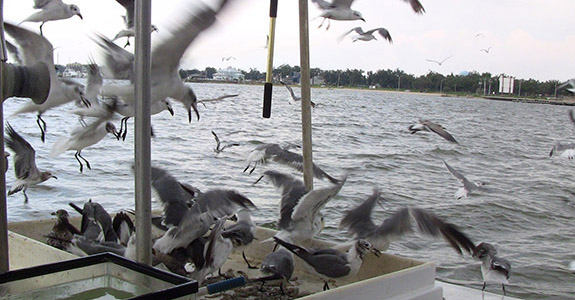 Interesting to note that the shrimp were grey.  It was also really cool to watch their little fin/leg like structures called swimmerets constantly moving to propel them around.  They look really different alive in the tank, than cooked and served on an icy platter with cocktail sauce.  I promise, after your shrimping trip you will never look at shrimp the same way again. It's a definite DO NOT MISS!
Update: After the BP oil spill in the gulf, my kids could not believe that this took place in the same area where we'd toured. The events on the news had much more meaning as they could imagine the people, the communities, and the wildlife that were affected. Hopefully by now their economies and ecosystems have recovered somewhat. What a sad and needless disaster....