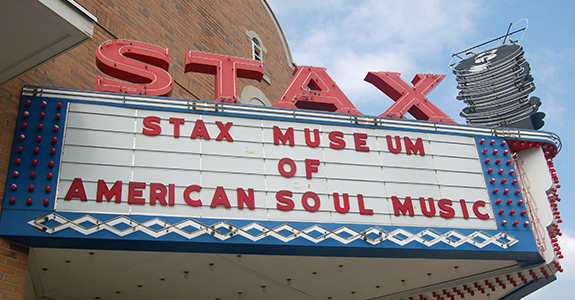 Stax Museum of American Soul Music is a real gem of a museum which really took me by surprise because I just wasn't sure what to expect. It is a treasure trove of lessons on musical history. As we strolled through we learned about gospel music in the local churches and how that mixed with some country music led to the birth of rock and roll. Through video and audio presentations it was easy to see and hear how artists like Elvis Presley and others found inspiration in both styles of music and combined them to create a revolutionary new sound. . Stax museum is like taking a voyage through time and tracing the evolution of music.  We also learned about the roots of the blues and soul music both of which have very strong roots in Memphis. and the original Stax record lable that operated out of this building. As we moved on to the more contemporary exhibits, what was really amazing was seeing artists that we that we know and love and hearing their music and seeing and connecting the dots of where it evolved from from-church music, slave tunes, and country.
Our visit to Stax really made me think about the cultural divide in the region and how it affected music.  It almost seemed to me like Rock and Roll was a marriage of black and white cultures and yet it was rebellious in nature, perhaps to counteract the societal angst and underlying tension between the races. This museum made us all stop and consider many things. The backdrop was music, but what this museum does such a great job as is painting a complete picture of the history and influences, what was happening socially and politically.
Do not miss this amazing museum that chronicles the rich musical history of the unique sound that was born here on the streets of Memphis.