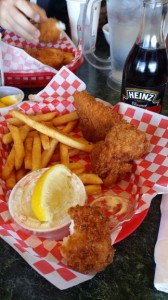 We love fish, but truth be told we never knew how good it could really be until our trip to Alaska.  Favorites like Salmon and Halibut are so much tastier when they are literally just caught and cooked and put on your plate. It's going to be really hard to going  back home and eating fish that's been on it's own "road trip".   Fresh or frozen it just won't taste the same now that we've been spoiled in the best of ways.
My kids and I love fish and chips and while we've eaten it made with cod, haddock, ono (wahoo), and even blue nose grouper in a variety of places around the country, our number one fish of choice for this guilty pleasure is Halibut. Pure white and meaty with a subtle flavor that is so perfectly complimented by the seasoned and golden crisp batter.
Some of our best finds happen on the fly and so it was with Terry's. While getting our fishing licenses at the local hardware store I asked the clerk where we could get a quick and delicious lunch of fish and chips.  Without hesitation she told us the best in town was Terry's-a family friendly casual place just up the street across from Seward Harbor and the fancy dockside restaurants.  When your stuck for a place to eat, always ask the locals, they know where the good stuff is.
Moments after seating ourselves, our cheerful waitress arrived and took our order.  A short time later, what arrived at our table was golden brown crisp nirvana on a plate. Nice meaty chunks of fresh Alaskan Halibut breaded with a crunchy batter that was perfectly seasoned and not at all soggy (a mystery I have yet to perfect in my own kitchen).  My kids oohed and aahed before diving in. Check out the picture-how amazing does this look? The consensus at the table-off the charts delicious!
The fries were spot on as well.  Golden to crisp perfection and salted just right.  The perfect compliment along with mounds of homemade tartar sauce. Our craving was satisfied and my teenagers were full and happy.  It doesn't get any better folks. One caveat, like all things in Alaska it was a tad expensive but when you couple the freshness of the fish with the fact that the restaurant is probably only open about 4 months a year, it all starts to make sense.  In any event, what we ate was totally worth it.
In addition to fish and chips, Terry's offers a variety of other great plates, even Bering Sea Premium Crab like the kind they catch on "Deadliest Catch". I can't speak to the rest of the menu, but my advice to you is, go with what the restaurant does best, and what's on the sign outside-Fish and Chips and you'll be glad you did.  Some of the best service we had in Alaska as well.  Nice going Terry's!