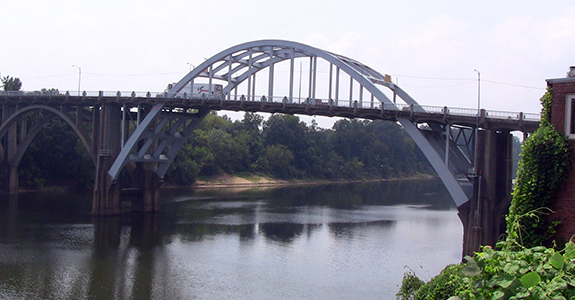 When we arrived in Selma, it felt as if we'd come upon a ghost town. There were a few buildings and not very many people.  The town seemed desolate and deserted right near the Edmund Pettus Bridge, the historic site of the start of three marches to protest segregation and the discrimination against African Americans. The banks of the river that flowed under the bridge were so peaceful and beautiful that it was almost hard to imagine the violent scene that took place at the peak of the civil rights movement.
Reading the plaque at the entrance to the bridge we learned this was the start of the Selma-Montgomery March, the protest that focused national attention on the civil rights movement. African Americans in Alabama and other places were not being allowed to vote. Dr. Martin Luther King Jr. organized the march to focus attention on the voting rights issue but just as the first march got underway, the local whites and the local authorities attacked the protesters beating them clubs and using tear gas to drive them back. That day became known as "bloody Sunday" as it was captured by the news media not only in print but on television.  The rest of the country was now aware of what was going on in the south and that exposure put pressure on the government to enact the voting rights act of 1965.
A few days later, Dr. Martin Luther King Jr. regrouped and let a symbolic march to the bridge and the got a court order for a full scale march across the bridge from Selma all the way the to state capitol building in Montgomery. The full scale march started on Sunday March 21 with 3200 marchers and ended in Montgomery four days later with 25,000 marchers. I cannot even begin to tell you how moving it was to stand here, where brave and courageous people protested for their rights under the law, in the face of injustice, racial discrimination and outright prejudice. No history book, no matter how in depth, can give you the experience of standing there where it actually happened.  I was awed and humbled to be there, taking in the energy of my surroundings trying to picture the scene in my mind and we made our own way across that same bridge, to a new understanding of the struggle for civil rights.