After escaping from the Disney complex of parks and hotels and the overload of all things Disney,  fearing that we would be brainwashed and turned into Disney zombies, we were thrilled to find Wonderworks, which refreshingly had absolutely NOTHING to do with Disney. (Sorry all you Disney fans, I am not a hater, but there can be too much of a good thing).  Wonderworks is a science based fun house type activity zone that looks like a house that got picked up by a tornado and landed upside down.Pretty awesome engineering and architecture if you asked me (notice how they even put up the Christmas decorations upside down—very creative).   Walking in we found lots of fun and educational science related activities that  delighted and amazed everyone .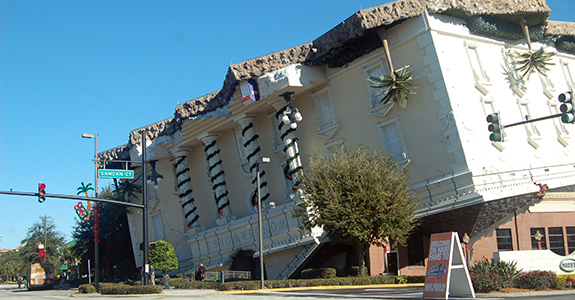 One of the highlights was Stepping into a booth and feeling the gale force winds of a hurricane.  This was a total thrill for us Californians who've never even come close to experiencing a hurricane (a tornado and earthquake yes, but no hurricane)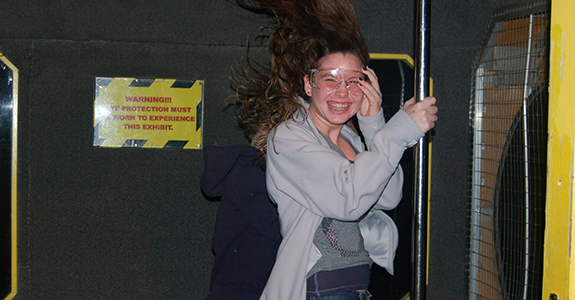 We all laid on our backs on a bed of nails, and learned the science behind how this is possible.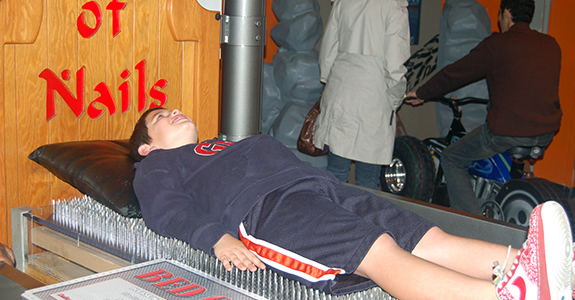 Another super fun, incredibly unique and creative activity was "Mindball"- where two people use the power of their brainwaves to see who can be the first to push the ball to their opponents side.  My two boys were going at it for quite awhile with no clear winner until Isaac finally had a breakthrough, and used his "mind over matter" to win. I am actually a little surprised as Joel is usually the one who is so hard headed....Wonderworks kept up busy for quite awhile, and it was truly refreshing to have fun using our brains in a ton of different ways. We were glad to leave Disney in the dust and explore the rest of Orlando.