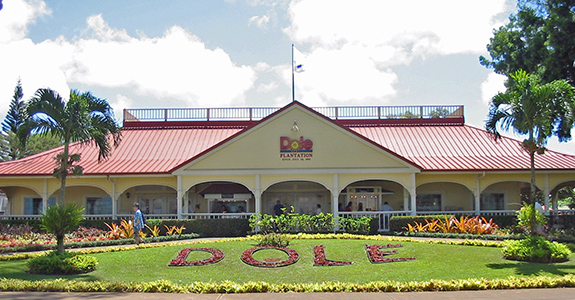 Heading out of Honolulu on our way to the North Shore we stopped at the Dole Pineapple Plantation to learn about one of Hawaii's signature crops. A word of warning, this "plantation" is a massive tourist trap. There are some free activities like a pineapple cutting demonstration but some of the other activities will cost you, like the enormous pineapple maze and the train ride and garden tour. We opted not to do those things as we were a little pressed for time and it was about 95 degrees and the last thing the kids wanted to do was get lost running around in some huge maze which would take them G-d only knows how long to find their way out. On top of it, I was sure Joel would get lost and get totally stressed out and then we'd all have to set out to find him and then find our way out AGAIN.....I am getting a stress headache just imagining it.... but we did have a wonderful time in the enormous gift shop. They have every kind of pineapple product you can imagine and then some as well as a super nice selection of souvenirs. The place was jam packed with shoppers so be forewarned. There were lots of neat vintage Dole pineapple prints and other stuff along with tons of tasty treats to send home.
I ended up buying a "honu" or sea turtle sticker that I put on my car. Everytime I see it, I am reminded of the peacefulness of that lovely creature and the wonderful time I had with my family in the islands. I also indulged in a chocolate bar from a local manufacturer called Maile Kai. Oh my...., that bar was one of the best I've ever had. It's single origin chocolate bar meaning that all the chocolate is grown and processed in the islands, and it comes in milk and dark. It was smooth and rich, and ridiculously good.
Of course the shopping was fun, but honestly, I'd hope to learn a little about the dole company and it's history in Hawaii. There weren't any displays or museum to understand what role pineapple and the dole company played and sadly it was a lost opportunity as far as our learning went. I would not recommend this place as somewhere to learn about agriculture past and present in the islands, but if you need some unique or tasty souvenirs and have the time either going to or coming from the North Shore, it's definitely worth the stop.