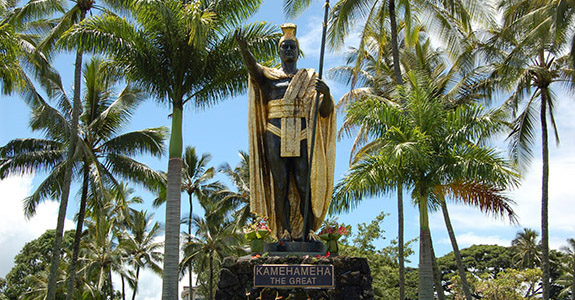 King Kamehameha is the great  Hawaiian king who was born and raised on the big island of Hawaii and under whose great leadership the Hawaiian islands were united.  He is the most revered historical figure in Hawaiian culture and memorialized by four life size statues three of which are still in the Islands. The fourth one is in the US Capitol building. The second statue is the second on the big Island and is based in the city of Hilo which is the home of King Kamehameha's father's birth. This statue was more ornate than statue #1 in the northern town of Havi which is where the king lived as a boy.
We have made it our mission to see all four statues in person as an homage to the great king.  I am proud to say that we have seen all three that remain in the islands and on our final road trip to Washington DC. we will reconnect with the Great King again as we view the fourth and final statue.
While you are in Hilo, do enjoy the town and enjoy a nice lunch and make sure you pop into the Sugar Shack Candy Shop for some old favorites and island treats.