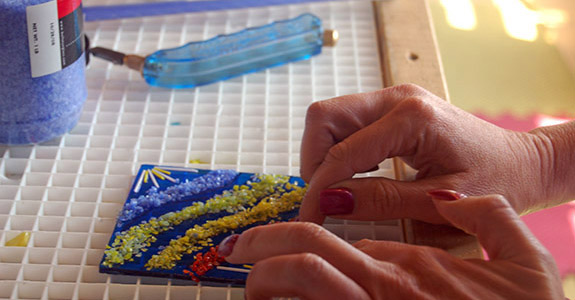 Louisville is also famous for its glass factories (just like Toledo, Ohio) and right around the corner from the Louisville Slugger Museum and Factory we decided to check out another fun and interactive activity at The Louisville Glassworks.
Inside we took a look at the displays to learn a little bit about the different ways glass can be transformed into interesting shapes and colors before taking a seat in front of the glass blowing studio. There were  a couple of artists working putting blobs of glass on a stick into the hot fire in the kiln to melt it a little before taking it out to shape it and add colors.  After a few minutes of watching, our creative juices were flowing and we set off to the workshop to craft our own project.
The Louisville Glassworks has different projects you can make most of which are fused glass, meaning you glue colorful glass shards onto items like bowls, or plates that you purchase and then they kiln fire them for you and ship them home.  Because we were on a limited budget, Yvonne and I each opted for the coaster set which gave each one of us our own individual coaster to craft. .  There are lots of projects to pick from; it all depends on your budget. Our instructors demonstrated how to cut colored shards of glass so that we could make our own original designs.  There were also lots of precut glass pieces in all kinds of shapes and sized to work with as well.  Everyone put on their safety goggles and got to work.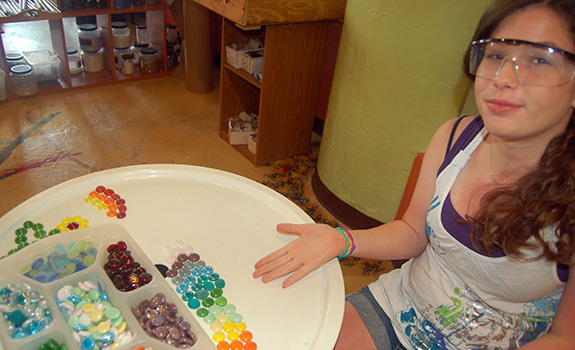 I don't know about you, but I find working on projects like this so therapeutic. Just quietly working letting your mind wander while you make fun decisions that have no real important consequence.  It just frees your mind.  I loved watching my kids get creative too.  It was such a fun process and what was beyond great was that we were doing this together as a family.  Once we finished putting on the finishing touches, we handed them in to get fired.  Our instructors explained that the small glass pieces get "fused" onto the larger glass coaster resulting in a flat surface with the design you created.  We had our coasters shipped home and they arrived shortly after we got back.  We ended up with a practical and super fun souvenir that reflected both the time we spent together and each of our unique and creative personalities.  There is no better souvenir than that!