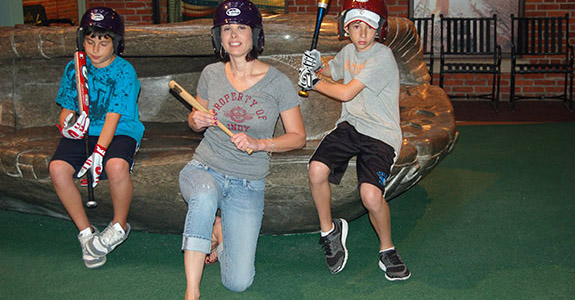 Wow, the Louisville Slugger Museum and Factory was beyond fantastic and best of all it's a real factory turning out an all-American product. Did you know that most big league ball players have their own bats made to their specifications? We found that out and so much more.  We spent some time in the exhibit area while waiting for our tour to start, reading about interesting facts about the Louisville slugger bats and the players who use them.  We even got to see Babe Ruth's own bat and learned about finding the "sweet spot" when hitting a ball.  The sweet spot is the place where the least amount of energy is lost when the bat makes contact with the ball sending it farther and faster.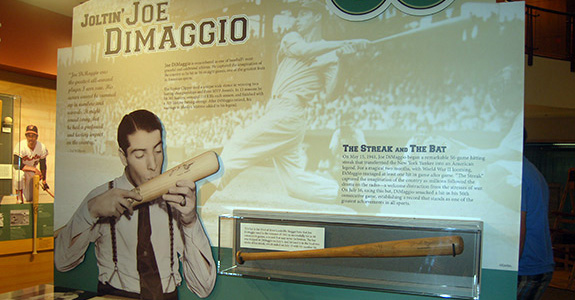 Seeing all this baseball stuff brought back so many memories for me like watching my LA Dodgers win the World Series during a hot summer in in 1981, the summer before I started high school. It also reminded me how when I was a kid, my brothers got to play little league baseball, but my parents told me that was for boys, and as much as I wanted to play too, the answer was always no. Instead I got piano lessons.  I've always been athletic, and I know if my parents had put me on team i'd have been a decent player, but sadly I never got the chance.  What I did take away from that experience though is not to pigeonhole my own kids into stereotypes but to give them the opportunities to try things.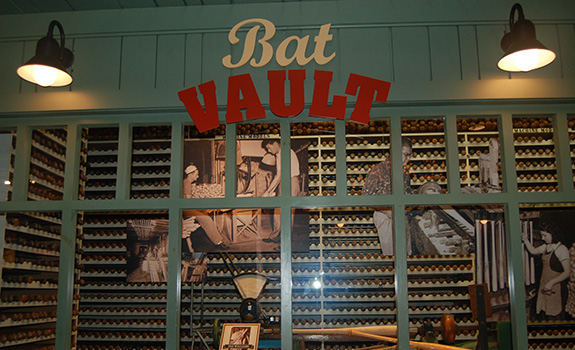 Heading into the factory for the tour with our guide, we watched how they core out several bats from a single log of wood and then sand, seal, and finish them. The make their factory models and also custom make bats for major league ball players or anyone who wants one.  The best part of the tour though is getting your own mini souvenir bat. Everyone gets one for free!
Next we headed to the batting cages in the back. How can you not want to take a swing after reading about so many baseball greats and watching how they make the bats?   My boys and I put on the helmets, got our bats and took turns taking swings as the pitching machines hurled those balls over the plate.  It was way too much fun and brought back so many memories.  I think my boys were surprised that I could hit as many as I did. After doing a little souvenir shopping we headed out front to see the largest baseball bat in the world.  What a fitting tribute to America's favorite pastime.  The Louisville Slugger Museum and Factory is an all-American DO NOT MISS.