One of the things Kona is most famous for is its coffee and there are several plantations that you can tour.  We decided to visit the Mountain Thunder Coffee Plantation, a family run coffee farm that grows and roasts it's unique berries on the hillsides of Kona.  In addition to the free tour where you can learn how coffee berries are picked, dried, roasted, and then packed to sell, we decided to pay for the VIP experience and do something really cool—roast our own beans!  "The Roastmaster" tour cost us $200 for the 7 of us which was pricey but not outrageous and we ended up with 8 small bags of our own coffee we roasted ourselves.   I am not a big coffee drinker, in fact I don't drink it at all but because it's such a huge part of our culture and a huge crop in Kona-and my kids really like it (I only let them have decaf!) I thought it would be a great experience to learn about it.  And how about the added bonus of ending up with  a terrific souvenir to share with our loved ones back home.
After getting a basic understanding about the coffee plant and the picking and drying process, we were given a pound of beans and they were put in the roaster. Through a small window, we watched them turn color stopping at just the right moment for that cocoa brown color. We found out that the darker the roast, the less caffeine the coffee will have. A word to the wise....We also learned that the best coffee comes from single flavors, not blends.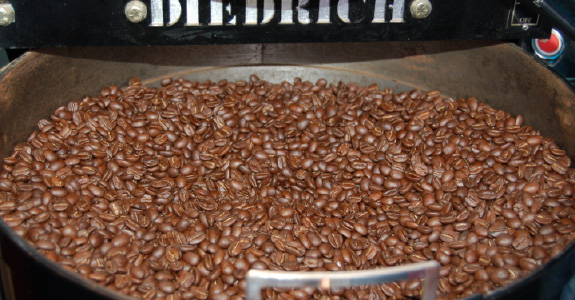 After the roasting,we took our beans to the packaging room where we learned how the coffee beans are weighed and packed in their nifty little bags and sealed air tight. The smell was so fabulous we could hardly contain ourselves.  Usually Mountain Thunder sells their coffee as whole beans for you to grind at home but since we didn't have a coffee grinder, we had them grind ours before they got packed in our little souvenir bags.  As a special treat, They took our picture and printed it onto special labels and then  put it on the bags. We left with about 8 small souvenir bags of coffee. Sadly, The only part of this activity that wasn't great was our tour guide's attitude. She was the owner's daughter and had no patience for our questions and rushed us through as if she was completely bothered. Not a nice way to treat customers who just paid you a chunk of change for what should be a unique and amazing experience. I will cut her a little slack though as she was a new mom and might have been dealing with some postpartum issues which can happen to the best of us, but if that's the case, let someone else handle the tour if it's too much stress.
We named our batch Road Trip Roast! I can't even begin to tell you how wonderful our luggage smelled all the way home! And by the way, the coffee was fabulous! Everyone we let taste our coffee said it was spectacular.  No doubt Mountain Thunder takes a lot of pride in their product and I highly recommend it if you love coffee.  You can order it online by clicking here.