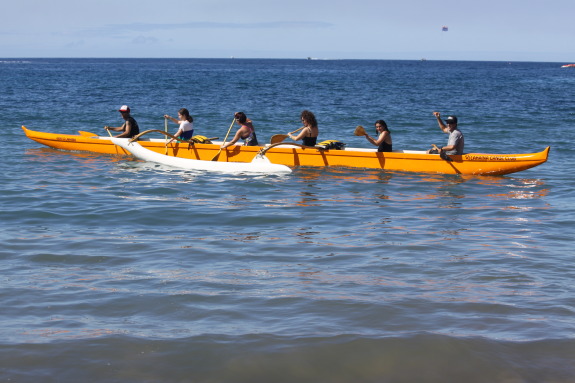 Besides visiting the chocolate farm on the island of Kauai, this was by far my other favorite activity on the entire trip.  Outrigger canoeing  has deep roots in Hawaiian culture and is a serious sport here in the islands with races and clubs on every island. We went with the fine folks at Maui Paddle Sports who were friendly and knowledgeable making our experience truly memorable.  If you find yourselves on Maui, I don't think you'll find a better or more professional outfit for a water based adventure.  None of us had ever done this before, and it just looked like such a good time that I couldn't wait to try it. I also thought it would be a terrific "team building" exercise, forcing everyone to work together to get where we needed to go.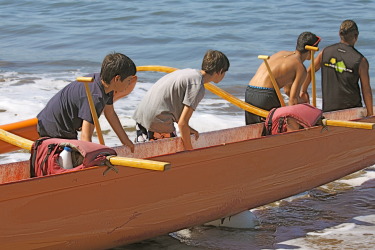 Because there were 7 of us, we took two boats and had 4 guides—2 in each boat to paddle with us. Everyone was outfitted with a paddle and taught the commands (in Hawaiian) in a short orientation before taking off.  Next we headed to the shore where everyone had to push the canoes (which are quite heavy by the way) into the water and jump in.  As our guide shouted the commands, we had to paddle in unison to move quickly and straight through the water which was a little challenging at times but little by little we got it down.  We pushed and paddled picking up speed changing sides on command.  It was just thrilling for me, because I'd always wanted to try to row crew, but just never had the time to get around to it-this was just so much better-doing it Hawaiian style.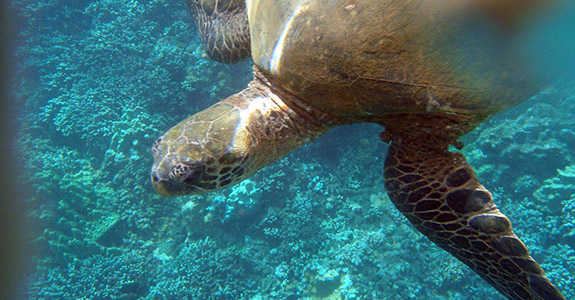 As we cruised along, our guides gave us a quick lesson in Hawaiian history, as well as a primer on the local wildlife. They also treated us to a delicious snack of cold fresh pineapple.   As we sat in our canoe, almost on cue, a sea turtle, also known in Hawaiian as a Honu, appeared floating gently in the waves checking us out before diving back under the water.  As we floated we saw more of them and they were so beautiful and peaceful—and huge! They seemed  pretty friendly, coming very close to the canoes but you have to resist temptation to touch their shells and keep your hands in the boat. According to our guides, Hawaiian law dictates that your are not allowed to touch them, and if you do, you can face very stiff fines.
I cannot recommend this experience enough.  It was a great way to reconnect with the ancient peoples who most likely paddled canoes much like these along these shores.  It was also a great way to reconnect with each other, working together in harmony towards a common goal.  I loved every minute of it and can't wait to do it again....hopefully someday soon.