So how crazy is this?  When I was about 10 years old (I am dating myself here by telling you that was in 1975) my parents splurged big time and took my brothers and I on a trip to Hawaii.  One of our more memorable stops was The Polynesian Cultural Center which will forever remain memorialized in my dad's vintage super 8 footage which my mom recently had converted to a dvd.  If you can believe it, the entire center looks and feels exactly as it was in 1975-not dated by any stretch, just exactly the way I remember it as a kid which I have to tell you it felt really surreal, especially because now it was me as a parent enjoying it with my kids.  We headed toward the entrance and I kid you not, it was exactly as I remember it, the same structure and a lovely woman dressed in the traditional Muumuu greeting us with her friendly Aloha.
The Polynesian cultural center is a place where students from various islands in the south pacific come and learn about their culture and teach and showcase their unique activities and traditions for visitors.  Each island represented has it's own area in the park where you can partake in activities, ask questions, and get a feel for what makes that island unique.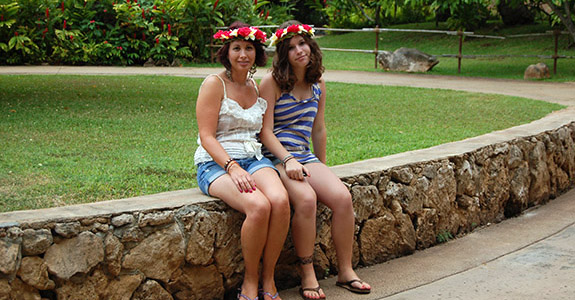 Our first stop was the island nations of Tonga.  There we observed what a living structure was like. I remember the beds were made of smooth logs which sat under a huge thatched roof.  Our Tonga guides showed us how to start fire by rubbing certain types of sticks together. We also participated in a team building game where we sat in pairs across from one another and had to toss sticks in unison to each other.  This is how Tongan warriors trained, but truth be told it was also a lot of fun.  Joel and I made a pretty good team managing to toss to the rhythm dropping our sticks only once.
From Tonga we mozied over to New Zealand where we learned about the Maori peoples with their wonderful tattoo art.  We also practiced warrior training by twirling two balls attached by large strings, kind of like that kids game called "Kerbangers" but much bigger (and softer). This required quite a bit of coordination and skill which I must admit the kids and I were sadly lacking...but it was still fun to try.
We visited pavilions for Fiji where we did spear throwing, and Tahiti where we learned how the girls did those magical dances where they move their hips at lightning speed to the beat of the drums. We also learned to Hula at the Hawaiian pavilion and got tribal tattoos and played a game with rocks that was quite similar to shuffleboard.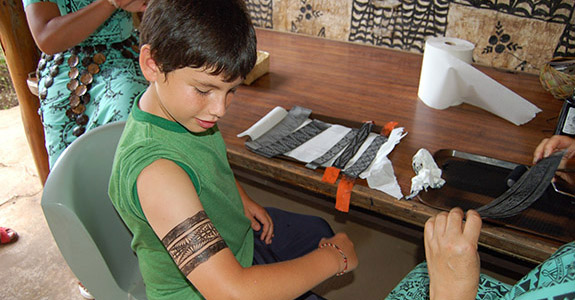 The best part of the tour was the parade of boats through the little river way through the park-which hadn't changed one iota since I was a kid.  Each island has it's own boat with dancers that highlight their own particular dances as the boats cruise down the river, sort of like a festive boat parade.  It was beautiful both to watch and to listen to the live island music that accompanies the dancers.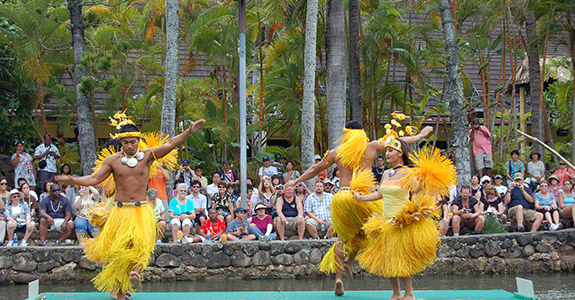 We so enjoyed participating in all the activities and learning about the similarities and differences between the island peoples. What was most special to me was retracing the same experiences I'd had as a child with my parents only this time with my own children. Seldom do we get opportunities like that to see ourselves from both sides of the coin as a child and as a parent.  I am glad the Polynesian Cultural Center hasn't changed a thing.  It was a magical now as it ever was, and G-d willing it will be forever more for generations to come and learn about the Polynesian people and their beautiful and rich culture.