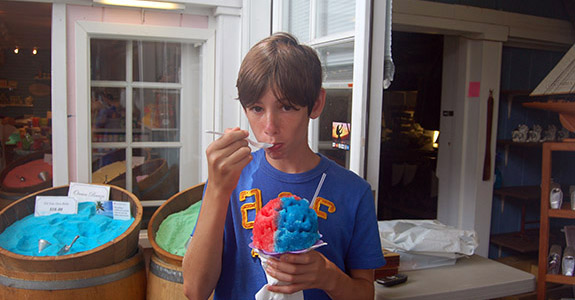 You cannot visit Hawaii without indulging in a shave ice and our favorite place hands down was Ululani's on Maui in Lahaina.   Don't even think of comparing this to a snow cone. The ice is fine and feathery like snow that gets shaved literally off a huge block in a a special machine and lands right into a nifty plastic cup/cone. From there, add the flavor combination of your choice and there are tons to choose from to suit every palate.   The flavors are as bright tasting  as the fluorescent colors of the syrup.  You just HAVE to try it!  I'll probably start a war by saying this, but we all thought this was much better than Matsumoto's Shave Ice on the north shore of Oahu which is legendary and supposedly THE place for shave ice in Hawaii....
Most of us opted for 3 flavors each almost everyone included our new favorite flavor Lilikoi-which is Hawaiian for passion fruit.
If you are on the island of Maui, head over to Ululani's. It's a DO NOT MISS!!!