You just cannot visit the Big Island of Hawaii without visiting Volcano National Park which is about a 45 minute drive from Hilo or about a 2 hour drive from Kona.   We just could not pass up the opportunity to explore mother nature at her most powerful and to understand  how the Hawaiian Islands were created while exploring the geology of our entire planet.
As we always do, we headed straight for the visitors center and it did not disappoint.  There were lots if very interesting displays about volcanic activity and lava flows, complete with video of recent eruptions.  What I absolutely loved is that my kids started to give me a geology lesson explaining in detail the exhibits from what they'd learned in science class at school.  They told me about the Earth's core and the magma and what a volcano really is.  On a large map, we were able to spot Hawaii's active and most legendary  volcanos.  We also took the time to learn about how Hawaiian culture interprets the eruptions attributing them to the goddess Pele.  We received our map from the ranger and then set off exploring the park, which we all found to be one of the most exciting and interesting we've seen in the whole country.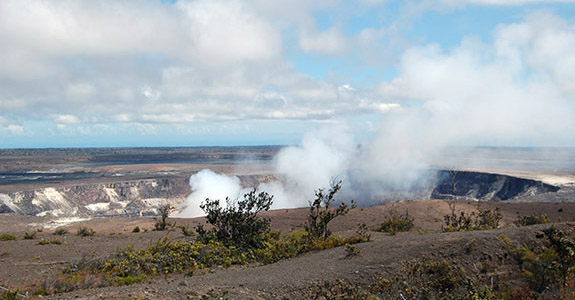 Our first stop was right outside the visitor center on a viewing platform to see, the active volcano Kilauea.  Because it wasn't undergoing a full blown eruption at the time, it was a little difficult to see the hot orange glow of the molten lava, but we could see traces.  The area around the volcanic cone is completely desolate and bare and no one is allowed to get even remotely close to it.  The kids and I all felt incredibly humbled seeing and understanding this natural phenomenon over which man has no control.
If you are like us, we only had about 3 hours to explore here before making our way back to Kona so we opted for the crater rim drive which took us through various landscapes and scenic stops.  We stopped at one area  that was an older lava flow.  There were chunks of black lava rock everywhere you looked and some even had iridescent colors. There were several viewing points from which you could get a sense of how the lava had flowed and then cooled frozen in time and space.  What the kids and I found truly amazing were tiny little fern seedlings poking out of the volcanic rock.  The volcanic rock must be so rich with nutrients that it can sustain the life of small plants.  This surely must be how the planet earth came into existence, how the eruptions and primordial soup must have led to life.  I loved that the kids and I were having a true science lesson outside of a textbook, thinking out loud, wondering, and discovering.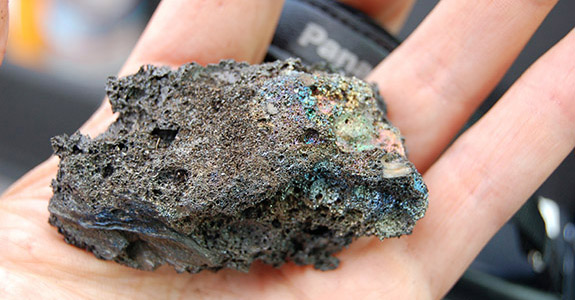 Our next stop was a steam vent.  A steam vent is a natural vent in the earth's crust where steam is released when water is heated by the boiling lava under the earth's surface.  We all stood around the platform and got the best natural steam facial ever.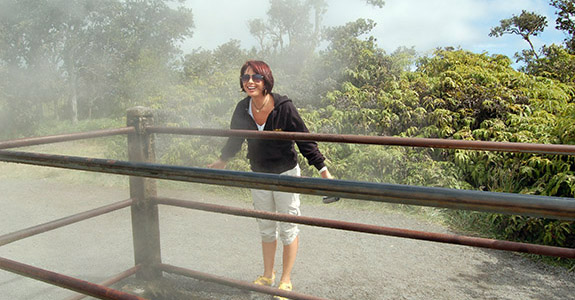 Our last stop was equally fascinating.  We walked through lava tubes which are formed when the outer layer of the lava cools while the center continues to flow creating a "cave".  We entered into the moist black caves which twisted and turned till we emerged at the other end.
Visiting the Volcano National Park was a fascinating experience, but what moved me most was how humbled we all felt,  awed by the power of nature that no man or nation can control.  It made me realize in spite of nature's power, it also exists in a delicate balance, so much of which we have yet to understand.  We are all just a small link in an amazing chain of living things.  I think we all left with a deep imprint, knowing that we must do our part to protect that balance by respecting that which has existed long before we ever have and will continue to do so  long after we are gone.