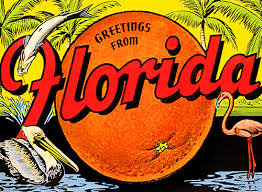 How much do you know about the Sunshine State? Take our quiz and find out if your are up on your trivia when it comes to Florida.
---
1. One of Miami's largest immigrant communities hails from what Latin American Country?
A) Argentina
B) Chile
C) The Dominican Republic
D) Cuba
E) Guatemala
2. What was the value of the treasure recovered from the shipwreck of Spanish Galleon named the Atocha  by salvage diver Mel Fisher off the Florida coast?
A) $675,000
B) $1.8 Million
C) $35 Million
D) $127 MIllion
E) $450 MIllion
3. Which famous American author had a home located in Key West?
A) William Faulkner
B) Earnest Hemingway
C) Mark Twain
D) Stephen King
E) F. Scott Fitzgerald
4. What is the average depth of the water in the Florida Everglades?
A) Less than 1 foot
B) 3 feet
C) 5 feet
D) 8 feet
E) 10 feet
5. What is Florida's Sanibel Island's biggest claim to fame?
A) It's the best place to see pods of dolphins
B) It's home to the Kennedy Space Center and Cape Canaveral
C) It's the 3rd best place in the world to hunt for seashells
D) It's rumored Blackbeard buried his treasure here
E) It's Jimmy Buffett's hometown
Ready to check your answers? Click here to find how well you did.