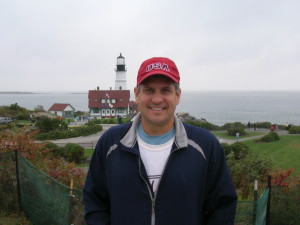 I had the pleasure of "meeting" Craig when we discovered we had a mutual friend on Facebook. Turns out he's also a huge fan of The Explore All 50 Project. Thanks to technology and especially sites like Facebook, the world just keeps getting smaller and smaller. I found out that Craig, a single dad of three girls Meadow 21, April 18, and Woodlyn 16, is a marathon runner who has set quite a goal for himself, to run a marathon in each of the 50 states ... wow!
I consider myself fairly athletic and in pretty good shape but running just isn't my thing. I could do a mile tops, so I have the utmost admiration for someone like Craig who can pound the pavement for 26.2. According to Craig, running marathons are "30% mental, 20% physical & 50% financial.  So far Craig has run in 21 states since starting in 2006 (12 of which were in 2012). This year Craig is eyeing Kansas, Indiana, Montana and possibly Oregon and Washington this fall.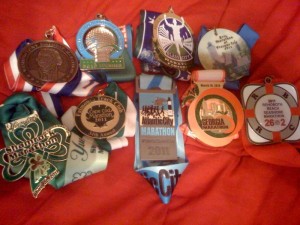 Craig got seriously hooked after being inspired by a friend while working on the East Coast. While running in his fourth marathon in Atlantic City, New Jersey he met a guy named "Ed" who told him he'd run in 150 marathons-running in all 50 states-twice! The idea was implanted in Craig's mind and he's been on a mission ever since (in fact running into Ed numerous times at the finish line). One of the nicest parts of the experience according to Craig is "you meet new people and learn new stories along the way – it's a special thing."
Of course Craig tries to tour the area before if time allows-especially if he's running in a big city. His most memorable experience was running in Lake Placid New York, home of the 1980 winter Olympics. As he was running Craig recalled his memories of the games, especially the incredible win by the US Hockey team which later become known as "The Miracle On Ice". "I finished the race running in the open oval where Eric Heiden won all those gold medals (for speed skating) and I was in tears as I crossed the finish line."
There is a camaraderie and a special bond that joins marathon runners together in their push to reach the finish line. Craig loves "the amazing people, with their stories and all the nice volunteers that make it fun and bearable through the pain of running 26.2 miles." And of course, who can forget the glorious scenery. Craig also uses the time to think about his girls and how much he loves them which is a great way to pass the time.
I think Craig sums it up best when he says "I love the travel, the healthy hobby, the habit, and like anything else, you begin to know what to expect and you get to test yourself with each and every race. Cycling is my passion, but running marathons in every state gives me a fun goal."
If you are a marathon runner, you might want to consider following Craig's lead-a mighty feat and quite an accomplishment-and a great way to see the USA! And when you cross the finish line-look for Ed!